Oven Baked Vacherin Mont d'Or in a Box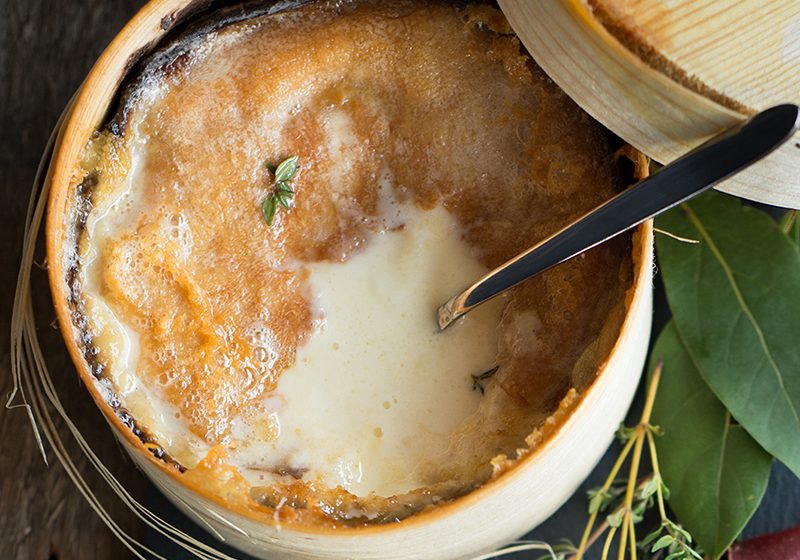 How to make it
Baked Vacherin is the best way of enjoying this unique and exceptional cheese.
Preheat oven to 160C.
Cut the garlic clove in half
Smear over the top of the Vacherin Mont D'Or
Make half a dozen holes into the skin of the Vacherin Mont d'Or
Dribble the white wine into the holes.
Bake for about 20 mins in the oven or until the top feels soft to the touch
We think baked Vacherin is made for dipping in hunks of crusty baguette, potato wedges or salami. Ideal for a sociable starter for 4. Please note Vacherin Mont d'Or is only available when in season – October to March.
Oven-baked cheese
There are plenty of cheeses that are perfection simply baked in the oven. The trick is finding the right dish to bake it in. You also need to add the right extra flavours for each unique cheese, and of course create the ideal dipping accompaniments. As well as Vacherin, our choices for perfect oven-baked cheeses are Camembert de Normandie AOC and Tunworth.
Accompaniments
These blue cheese straws are a great opener for a dinner party. Using a dry crumbly blue will ensure the straws don't become too soft after baking.
Poacher cheddar has an earthy and powerful taste with overtones of an aged alpine cheese. This flavour, combined with a chilli kick makes a great breadstick.