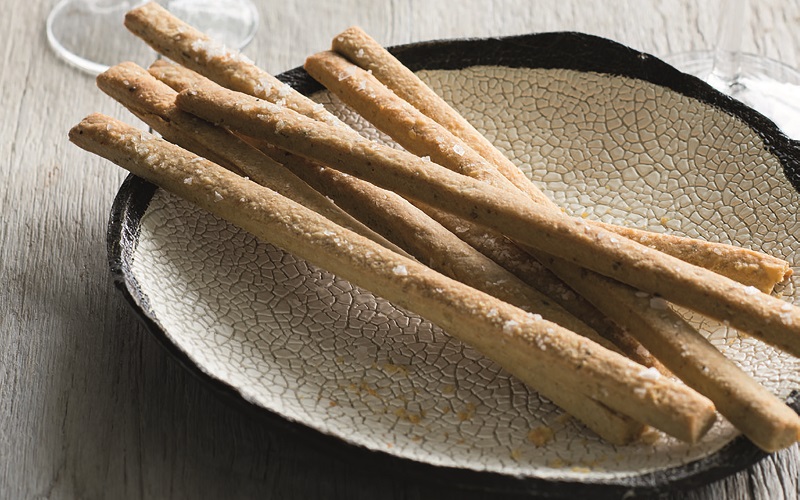 Ingredients
Makes about 20 straws.
80g (2 ¾ oz) chilled unsalted butter, cubed
150g (5 ½ oz/1 cup) plain all purpose flour, plus extra for dusting
200g (7 oz) blue cheese, crumbled
¼ teaspoon ground cayenne pepper
¼ teaspoon ground cumin
½ teaspoon sea salt flakes, plus extra for sprinkling
1 large egg yolk
How to make it
These blue cheese straws are a great opener for a dinner party. Using a dry crumbly blue will ensure the straws don't become too soft after baking.
Preheat the oven to 180°C (350°F).
Pulse the butter, flour, cheese, spices and salt in a food processor until well combined. Add the egg yolk and continue pulsing until it forms a ball of dough.
Turn the dough onto a lightly floured work surface and divide the dough in half. Working with one half at a time, roll the dough out about 5mm (1/4 inch) thick. Fold in half and roll out again. Repeat this a couple more times. On the final roll, roll out to a rectangle shape, also 5mm (1/4 inch) thick. Use a sharp knife to cut long strips about 1cm (1/2 inch) wide. Carefully transfer these to baking trays lined with baking paper, arranging them closely together but not touching. Sprinkle with salt flakes and bake for approximately 20-30 minutes or until they just start to brown.
Transfer the blue cheese straws to wire racks to cool and store in an airtight container for up to 1 week.
This recipe is from Milk Made.
Other Milk Made recipes: