Fig, Brie and Rosemary Tart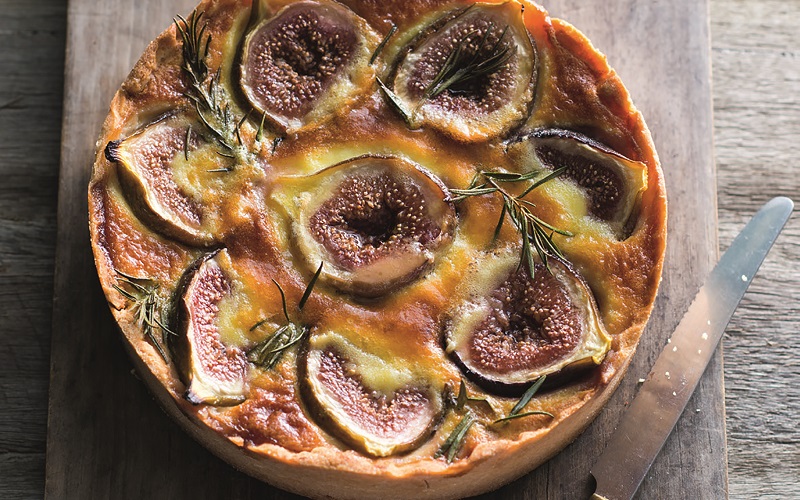 Ingredients:
Serves 6 – 8
200g (7oz) Brie, rind removed
2 eggs, beaten
35g (1 ¼oz) caster (superfine) sugar
150ml (5 fl oz) thick (double/heavy) cream
6 – 8 fresh figs, halved
8 small rosemary sprigs
Pastry:
110g (4oz) unsalted butter, softened
110g (4oz) caster (superfine) sugar
¼ teaspoon baking powder
240g (8 ½ oz) plain (all-purpose) flour, plus extra for dusting
1 egg
How to make it
We love this recipe from Milk Made, where oozing brie meets sweet, fattened figs. This tart is neither very sweet nor very savoury. You could serve it for lunch with a green salad, or for dessert with sweet yoghurt.
To make the pastry, pulse the butter, sugar, baking powder and flour in a food processor until it resembles breadcrumbs. Add the egg and keep pulsing until the mixture forms a ball. Wrap the dough in plastic wrap and rest in the fridge for 1 hour.
Preheat the oven to 190°C (375°F)
On a lightly floured work surface, roll out the dough until it is 3 – 4mm (1/4 inch) thick. Lay it over a 20cm (8 inch) tart ring set on a baking tray lined with baking paper. Patch-up any cracks or holes and trim the edge of any excess pastry. Line the tart base with baking paper and add some baking weights. Blind bake for 20 minutes then remove he baking eights and paper and continue cooking for a further 5 minutes. Set aside to cool.
In a medium-sized bowl, mash the brie well with a fork. Mix in the beaten egg, sugar and cream and stir until well combined.
Arrange the fig halves in the tart shell cut side up. Carefully pour the brie custard around the figs, stopping about 2mm (1/8 inch) from the top of the pastry. Sprinkle the rosemary sprigs on top. Bake for about 40 minutes or until the custard is set and the top golden. Allow to cool completely before serving.