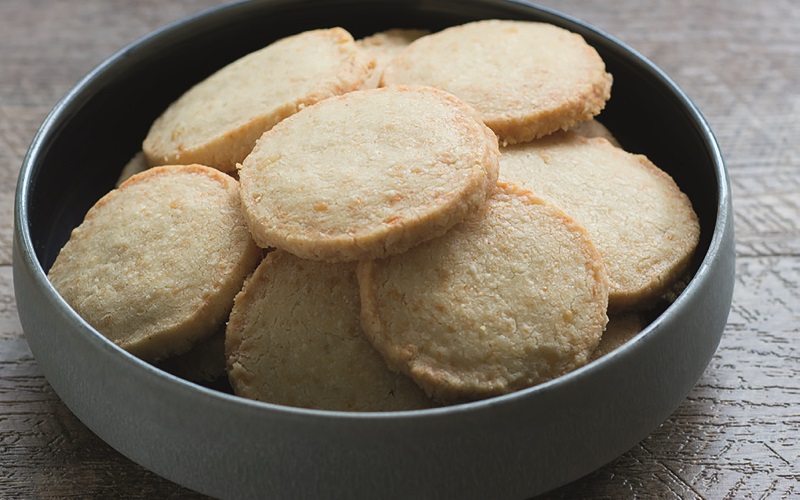 Ingredients
Makes about 24 biscuits
170g (6 oz) chilled unsalted cultured butter, cut into cubes
250g (9 oz / 1 2/3 cups) plain all purpose flour
Pinch of salt
Good pinch of cayenne pepper
150g (5 ½ oz) strong-flavoured cheddar, finely grated
How to make it
These brilliant biscuits from Milk Made can be cut into squares or circles. Make double the recipe, and you can keep a roll of the dough in the freezer to pull out and bake when friends drop by for unexpected drinks.
Preheat the oven to 200°C (400°F).
Put the butter and flour in a bowl and rub them together using your fingertips , until they resemble breadcrumbs. You can also do this in a food processor, if you prefer. Add the salt and cayenne, then knead in the cheese until combined. Roll into a ball.
Tear off a couple of sheets of baking paper, about 30cm (12in) square. Divide the dough in half and place each half in the centre of each piece of baking paper. Roll into a sausage shape, using the paper as a casing. Twist the ends to seal and place in the fridge for an hour to chill and harden (if you're going to store one of the rolls in the freezer, wrap well in plastic wrap first).
Slice discs off of the dough, about 7 – 8mm (1/3 in) thick, and place on a baking tray lined with baking paper. Bake for 15 minutes or until they are golden. Turn out onto a wire rack to cool before storing in an airtight container.