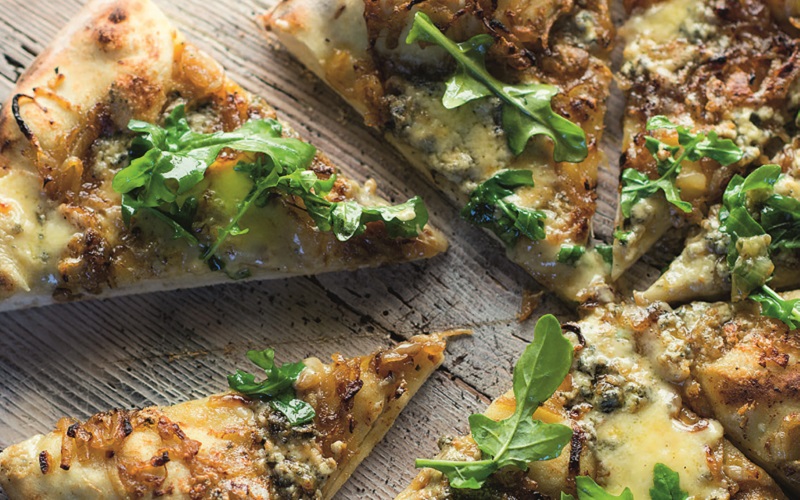 Ingredients
Makes 2 large pizzas
2 tablespoons olive oil
50g (1 ¾ oz) butter
4 large onions, thinly sliced
1 teaspoon salt
2 tablespoons soft brown sugar
2 tablespoons balsamic vinegar
2 pizza bases
350g (12 ½ oz) strong blue cheese, crumbled
Small handful of rocket
How to make it
This take on pizza is from the Japanese city of Sapporo. Although far from the natural home of pizza, the combination of sweet onion and salty blue cheese work brilliantly here.
Preheat the oven to 240°C (460°F)
Heat the olive oil in a heavy-based frying pan over medium heat. Add the butter, onion and salt and reduce the heat to very low. Cook slowly, stirring frequently, for 20 minutes or until the onion is soft and starting to turn golden. Add the sugar and half of the vinegar and continue cooking slowly for a further 10 minutes, stirring regularly to prevent the onions from sticking. Set aside to cool.
Sprinkle the caramelised onion and blue cheese evenly over the pizza bases.
Bake each pizza for 10 – 12 minutes. Toss the rocket leaves in the remaining balsamic vinegar and pile on top of each pizza.
This recipe come from the book Milk Made.