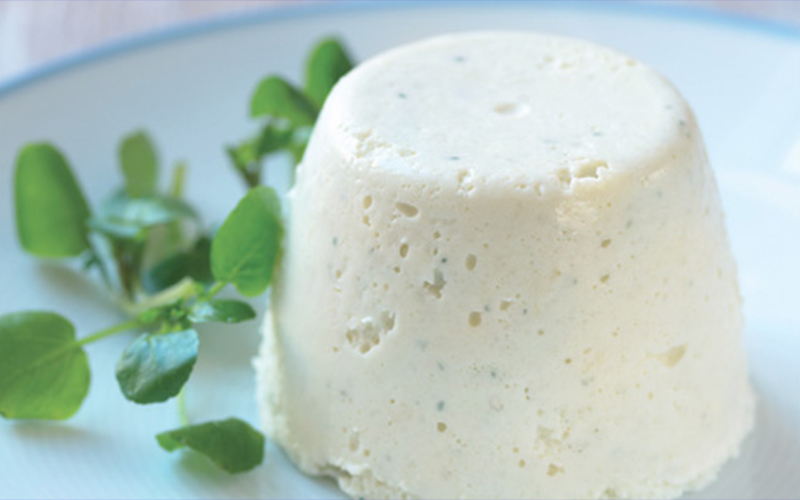 Ingredients
Serves 4
1 sachet of powdered gelatine
115g Bath Blue Cheese
1 small carton of plain yoghurt
2 eggs
150ml whipped cream
4 sprigs of watercress
How to make it
This light and airy Bath Blue Cheese Mousse is a perfect starter when you want to impress. Bath Blue is perfect for this recipe as it has a beautifully smooth and creamy texture.
1. Dissolve the gelatine in 2 tbsps of water.
2. Puree the Bath Blue together with the yoghurt and the yolks from the eggs.
3. Stir in the dissolved gelatine.
4. Beat the egg whites and fold into the mixture together with the whipped cream.
5. Put into four oiled moulds and chill.
6. Turn out and garnish with with the watercress.
Bath Blue Cheese Mousse Recipe courtesy of 'Grown in Britain Cookbook' published by Dorling Kindersley. Visit the DK site to buy the book
Other recipes
Bath Blue cheese is beautifully smooth with a creamy texture and the sharpness you'd expect from a blue. Pair that flavour with apricot jam and crunchy bread, and you'll make some delightful party bites.
This is a fabulous and easy starter idea. The trick to making this salad really come to life is to use a blue cheese that delivers a strong flavour hit, and Bleu d'Auvergne does just that.
This Rarebit recipe comes with a Somerset twist. It uses Somerset Cheddar and Bath Soft, both from the organic farm Bath Soft Cheese and featured in The Bath Organic Selection Box. This is a lovely dish to serve up as a light snack or as part of afternoon tea.
These small bruschetta bites are real party-pleasers, and great for lunch too. The brie with blackberry and honey combination is a chef classic! Make them with Brie de Meaux AOC and they'll be exquisite.