Le Gruyere, Mushroom and Bacon Frittata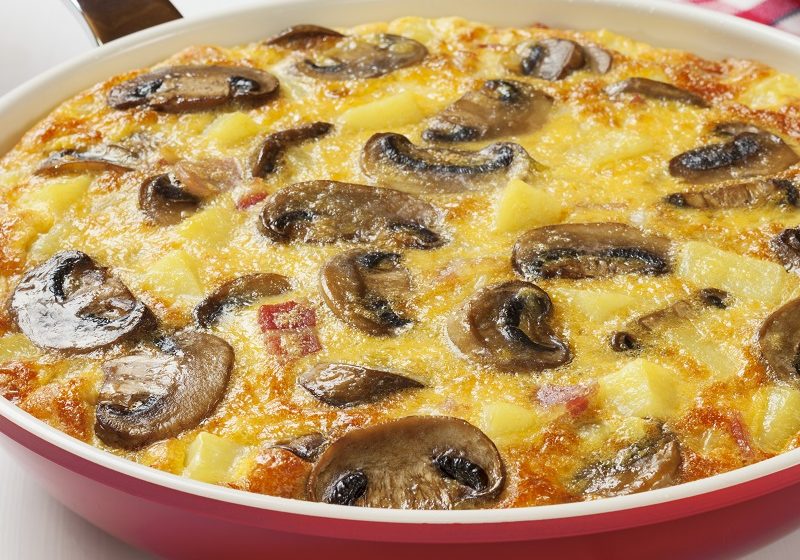 How to make it
Frittatas are a great way of using up ends of cooked meats, herbs and cheese in your fridge. We've used Le Gruyere in this recipe for it's depth of flavour and perfection when melted, but if you need to swap in another cheese it'll be just as tasty!
Preheat oven to 200°C/ 180°C fan/ gas mark 6
Ideally use a cast-iron skillet or oven safe frying pan
Fry the bacon lardons until golden (approx 5 mins)
Lift out the bacon and then fry the mushrooms until soft
Lift out and place with the bacon
Wipe the pan clean and then grease again, including the edges
In a separate bowl mix the eggs, Le Gruyere and parsley with a little seasoning
Add the egg/cheese mixture to the skillet/pan then sprinkle over the bacon lardons and mushrooms
Place the whole skillet/pan in the oven and bake for approx 30 minutes, or until golden and cooked in the centre
Frittatas are traditionally served in wedges
Other Le Gruyere recipes:
Käsespätzle is a traditional German cheese dish, and is everything great comfort food should be. It is, in essence, German mac and cheese with layers of Spätzle, caramelised onion and cheese all baked in the oven for a crisp finish.
The parsnip in this Parsnip, Potato and Gruyere Rösti recipe adds a little sweetness to the savoury potato and nutty flavour of Gruyere.