Pecorino and Taleggio Cheese Stuffed Aubergines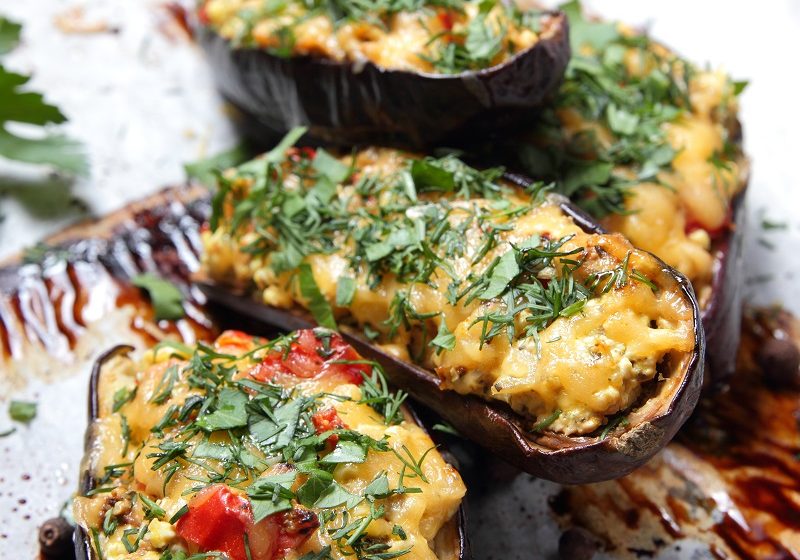 Ingredients
Serves 4
2x 200g Aubergines
Olive Oil
Spinach
Flat-leafed parsley
60g Pine Nuts
400g tin of Chopped Tomatoes
80g Taleggio DOP
Salt and Pepper
How to make it
These Pecorino Toscano DOP and Taleggio DOP Cheese Stuffed Aubergines are a great meat-free dinner option because they're absolutely packed with flavour.  They look really elegant too with their wonderful purple skins. Make sure you choose big fat aubergines to get as much mixture in as possible!
Preheat the oven to 180°C / 160°C Fan / Gas mark 4
Prepare a greased baking tray
Cut the aubergines length ways and score their skin.
Place on the baking tray skin side down
Bake for approx 25 mins
Once cooled, spoon out their flesh being careful to keep the skin intact
Keep all the flesh, then chop up, and add to a large bowl with chopped spinach, parsley, Pecorino, pine nuts and chopped tomatoes, salt, pepper and a drizzle of olive oil. Then mix.
Using the mixture, fill the aubergine skins, then return to the baking tray
Lay slices of Taleggio on the top, then return to the oven
Bake for approx 15 minutes, until they're golden
Serve the cheese stuffed aubergines with a sprinkling of chopped parsley
Other recipes:
A retro classic with it's party hat on, these mini Cordon Bleus with Taleggio are a showstopper. Ensure you make enough because they will be the first party canapé to go!
This gorgeously gooey Taleggio and Grape Focaccia makes a great accompaniment for a selection of antipasti.