Mini Cordon Bleus with Taleggio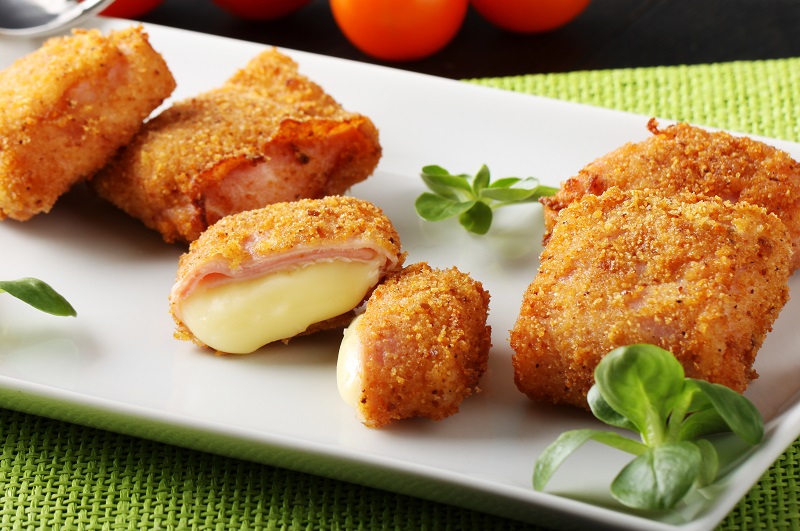 Ingredients
Creates 32
4 skinless, boneless Chicken breasts
200g Taleggio DOP
16 slices of ham (8 if the slices are large)
100g flour
100g dried breadcrumbs
2 eggs, beaten
salt
pepper
paprika
How to make it
A retro classic with it's party hat on, these mini Cordon Bleus are a showstopper. Ensure you make enough because they will be the first party canapé to go!
Preheat oven to 200°C/180°C fan/Gas 6
Place a sheet of cling film over a chopping board
Take a chicken breast and slice through, making about 4 slices
Lay out the slices and cover with cling film
Hit with a tenderiser until uniformly flat
Spread a little butter on
Season with pepper and paprika
Take a chicken layer and place a layer of ham over
Place the Taleggio inside the ham layer
Roll up ensuring contents is contained
Ensure you have your three dips ready: a bowl of whisked eggs, a bowl of flour, a bowl of breadcrumbs
Dip into the egg first, then the flour, then the breadcrumbs
Secure with some toothpicks
Continue until ingredients are used up
Place on baking tray lined with baking parchment
Bake for 15-20 minutes, until the chicken is no longer pink
To serve, cut into 2 so each half still has a toothpick to pick up the piece with
Some other canapes to serve with your mini Cordon Bleus:
These three cheese topped mushrooms are all in the Bath Organic Selection Box. Together they make a gorgeous mouthful packed with complex flavours.
Bresaola is a cured beef that comes from the Valtellina area of northern Italy. Normally served as an antipasti, this recipe uses it to create little goat's cheese parcels that work as a party canapé or just a tasty snack.