Three Cheese Topped Mushrooms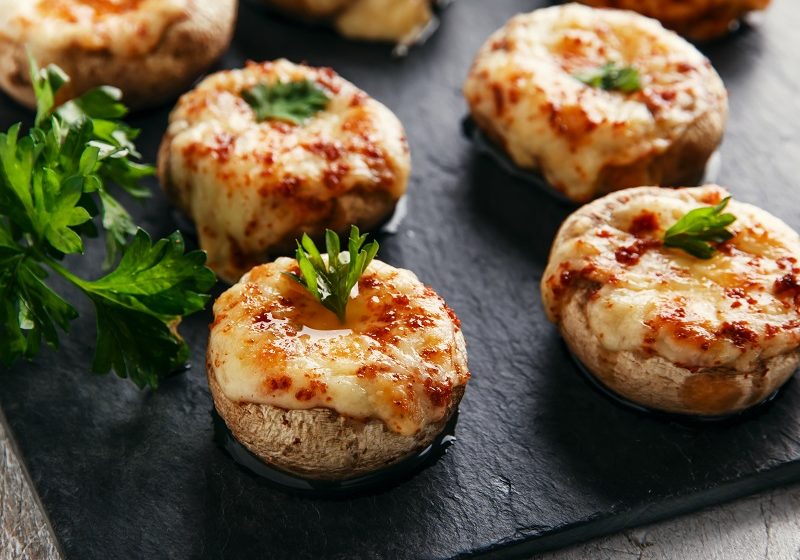 Ingredients
Makes approx 15
300g closed cup or chestnut mushrooms, or large flat mushrooms
100g Bath Soft Cheese
70g Wyfe of Bath
1 garlic clove, crushed
1 red pepper
Half red onion
Salt and Pepper
How to make it
These three cheese topped mushrooms uses cheeses all found in the Bath Organic Selection Box – Bath Soft, Wyfe of Bath and Somerset Organic Cheddar. Together they make a gorgeous mouthful of mushroom packed with complex flavours.
Somerset Organic Cheddar has a tangy mature taste you want from a cheddar but also creamy and crumbly. Bath Soft is an organic soft cheese with a white bloomy rind, it tastes creamy and buttery with a hint of mushroominess. Wyfe of Bath is an organic gouda-like cheese with a yellow rind. Very succulent and bouncy to the touch.
Here's the recipe:
Clean the mushrooms as necessary
Take the stems out of each mushroom to create a hole inside
In a bowl mix the Bath Soft with the grated Wyfe of Bath, diced red pepper, onion and garlic
Season the mix with salt and pepper
Fill each mushroom with a spoonful of the mixture, making sure the filling reaches the top of the mushroom
Dip each mushroom into the finely grated Somerset Cheddar so it sticks to the cheese mixture
Place in a baking dish, cheese-side up
Bake in the oven for 30 mins, until the tops are puffed and golden
Ideal for a Keto diet, party canapé or light snack. Buy the Bath Organic Selection Box here.