Banon and Bresaola Parcels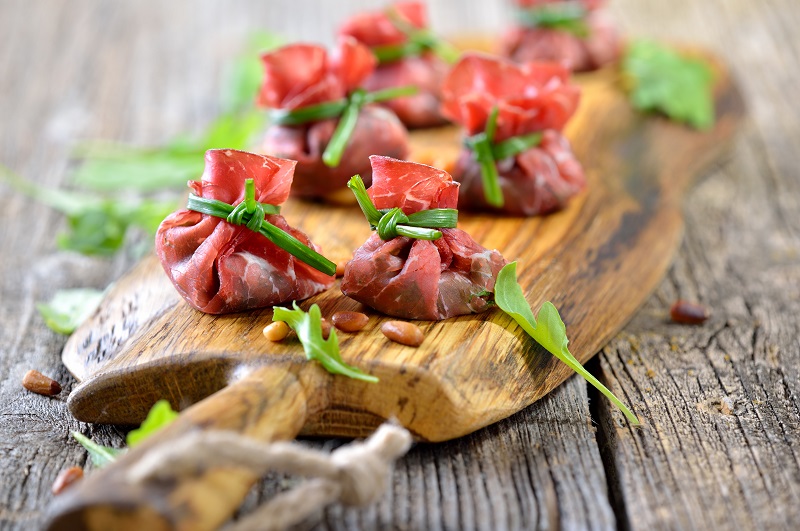 Ingredients
6 small slices of Bresoala (approx 50g)
100g Banon AOC
Olive oil
Handful of chives
Juice of 1 lemon
Salt and pepper
Rocket leaves
How to make it
Bresaola is a cured beef that comes from the Valtellina area of northern Italy. Normally served as an antipasti, this recipe uses it to create little goat's cheese parcels that work as a party canapé or just a tasty snack.
In a bowl, combine the Banon AOC, olive oil, chives, salt and pepper. smooth until a single creamy mixture
Place slices of bresaola on a board, and squeeze a little lemon juice over them
Add a dollop of the creamy mixture on each slice and wrap, securing with a rocket leaf
Serve with more rocket leaves and a drizzle of olive oil
Banon AOC Cheese
Banon is quite mild in taste, soft and smooth. It's imported from Provence and wrapped in chestnut leaves and raffia as a whole round cheese of 100g. The cheese takes on the aroma and the colour from the chestnut leaf and gives the taste earthy tones.
For other party canapés, try these recipes:
Three Cheese Topped Mushrooms – make a gorgeous mouthful packed with complex flavours
Mini Cordon Bleus with Taleggio – a retro classic with it's party hat on
Mushroom duxelles and Comté Gougères – serve with a side of Cartwright and Butler Piccalilli