Mushroom duxelles and Comté Gougères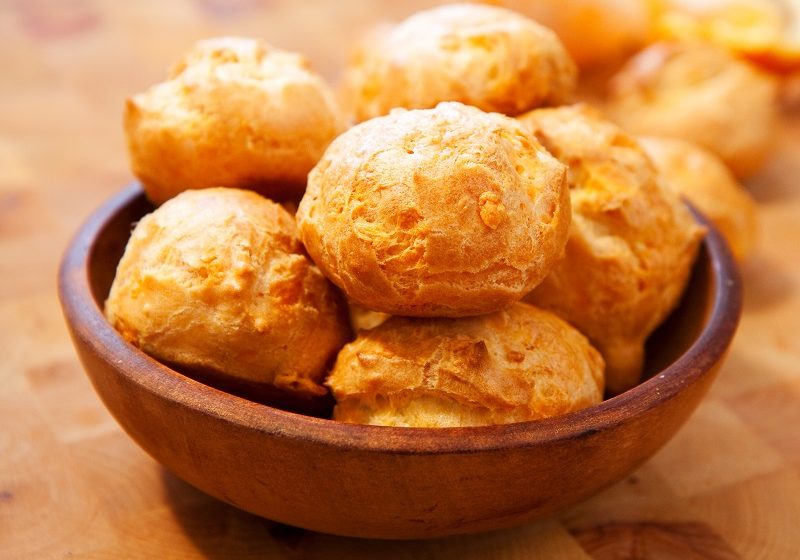 Ingredients
Makes 40
For the Gougères:
125ml milk
125ml water
100g butter, diced
1/2 tsp salt
1 tsp caster sugar
150g plain flour
4 eggs
120g Comté AOC
Pinch of cayenne pepper
Pinch of freshly grated nutmeg
For the Mushroom duxelles:
60g butter
500g finely chopped butter mushrooms
40g finely chopped shallots
300ml double cream
2tbsp parsley
salt and pepper
How to make it
If you're a dab hand at choux pastry then you'll have no problems with these gougères filled with delicious Comté and mushrooms. Serve with a lightly dressed salad for a light lunch or with a side of Cartwright and Butler Piccalilli for a party canapé.
Comté Gougères preparation
Preheat the oven to 180°C / Gas Mark 4
To make the gougère mixture combine the milk, water, butter, salt and sugar in a saucepan and set over a low heat
Bring to the boil then set over a low heat
Sieve in the flour and mix with a wooden spoon until completely smooth
Return the pan to a medium heat and stir continuously for about 1 minute to dry out the paste, then tip it in a bowl
Add the eggs one at a time, beating with the wooden spoon until the eggs are incorporated and you have a smooth and shiny paste with a ribbon consistency
Add three quarters of the grated Comté, the cayenne and nutmeg. Combine but don't overwork
Place the gougère mixture into a piping bag fitted with a 1cm plain nozzle.
Mushroom duxelles preparation
For the mushroom duxelles, melt the butter in a frying pan over a medium heat. Add the mushrooms and cook until the liquid has evaporated.
Add the shallots and cook for another 2 minutes
Pour the cream and cook for another 5 minutes
Stir in parsley and season
Transfer the duxelles to a bowl, cover and stand in a bain-marie to keep warm
Baking
Line a baking sheet with greaseproof paper
Pipe small mounds in staggered rows onto the prepared baking sheet
Brush with eggwash and lightly mark the tops with the back of a fork
Sprinkle over the rest of the Comté
Bake for 20 minutes until dry and crisp on the outside and base but soft inside
Transfer to wire rack
Assembly
Using a knife tip carefully cut a small hole in the base of each gougère.
Put the warm mushroom duxelles into a piping bag fitted with a 1cm plain nozzle and pipe it into the gougères through the hole in the base
This Comté Gougères recipe is courtesy of Michel Roux. Find his latest book Cheese by Michel Roux in our bookshop