Roasted Beetroot Salad and Walnuts and Dazel Ash Log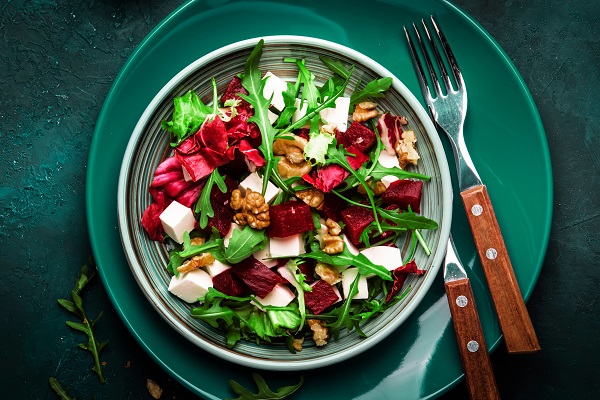 Ingredients
Makes 4 portions
4 medium beetroots
Olive oil
1 garlic clove, crushed
1 tbsp thyme leaves
Kosher salt
Freshly ground black pepper
100g walnuts
Rocket leaves
Balsamic glaze
1 Dazel Ash Log – approx. 50g per person
How to make it
Roasted beetroot is delicious warm and just out of the oven. We pair it with Dazel Ash Log goat's cheese and walnuts in a rocket salad, with a balsamic glaze.
Preheat the oven to 190°C (170°C fan)
In a large roasting pan, toss the beets with some olive oil and the garlic and thyme
Season with salt and pepper
Cover tightly with foil and roast for about 1 hour and 15 minutes, until the beets are tender
Let cool, then peel the beets and cut them into different sized chunks
Roast the walnuts in a skillet over medium heat for 2 to 5 minutes
In a bowl, combine the roasted beetroot, walnuts and rocket salad
Chop the goat's cheese into chunks and lightly toss in with the salad
Drizzle with balsamic glaze
Other recipes using beetroot:
Here's a gorgeously sweet salad with velvety pumpkins, sunflower seeds and Bocconcino Di Langa.
Here's another Beetroot, Walnut and Golden Cross Goat's Cheese Salad using Golden Cross Log and pickled beetroot from a jar.
Creamy Goats Cheese and sticky-sweet Chilli Jam works perfectly with earthy beetroot. Ideal in a sandwich for an impressive starter or fancy lunch.
This Mont d'Or salad offers a smooth and soft finish with the subtle flavour of the artichoke and the nutty, earthiness of the beetroot.