Beetroot, Goats Cheese and Chilli Jam Grilled Sandwich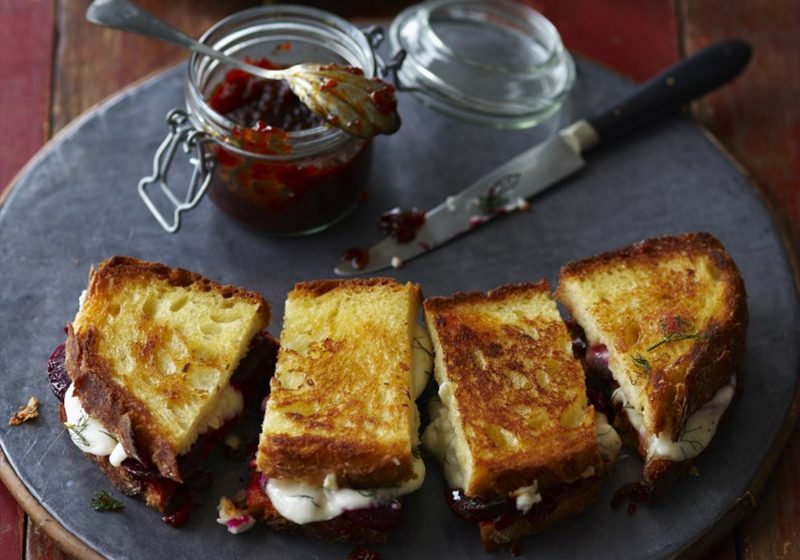 Ingredients
Serves 2
50g Kidderton Ash goats cheese
6-8 slices pickled beetroot
1⁄2 lemon
1-2 sprigs fresh dill, leaves chopped
2-4 tbsp Chilli jam, plus extra for serving
125g mozzarella, sliced
4 slices bread, white or brioche
Unsalted butter, softened
How to make it
Creamy Goats Cheese and sticky-sweet Chilli Jam works perfectly with earthy beetroot. Ideal for an impressive starter or fancy lunch.
Spread softened butter on the outside of the bread slices on one side and spread 2 of the slices on the non-buttered side with the Kidderton Ash goats cheese, evenly divided.
This is easiest if assembled in the pan. Put one slice of bread in a large, heavy bottomed nonstick pan, goats' cheese side up. Top with half of the chilli jam, spread evenly to the edges. Arrange half of the beet slices on top, squeeze on some lemon juice and scatter over half of the dill. Top with half of the mozzarella and cover with another bread slice, butter side up. Depending on the size of your pan, you may need to cook one sandwich at a time.
Turn the heat on medium and cook the first side until deep golden, pressing gently with a spatula, 3-5 minutes. Carefully turn with a large spatula and cook on the second side, 2-3 minutes more or until deep golden brown all over.
Remove from the pan, transfer to a plate and cut in half. Let cool for a few minutes before serving. Repeat for the remaining sandwich. Serve with additional chilli jam, for dipping.
This Goats Cheese and Chilli Jam Sandwich recipe courtesy of: 
Grilled Cheese by Laura Washburn
Photography by Steve Painter
Published by Ryland Peters & Small
Tracklements Fresh Chilli Jam is an award-winning condiment that smoulders with a gentle heat from fistfuls of fresh red chillies. Incredibly versatile, this chilli jam is beautiful with fish, meats, sarnies and creamy cheeses. Try it here!