Spinach, Walnut and Crozier Blue Cheese Fettuccini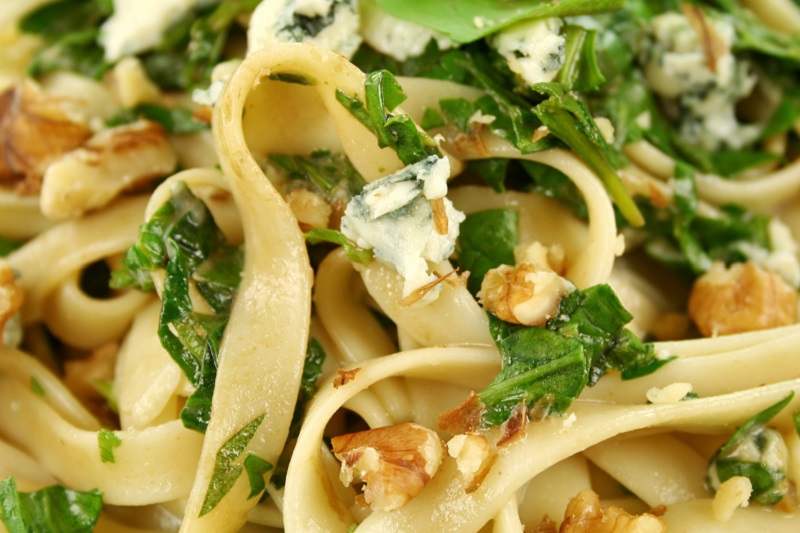 Ingredients
25og Fettuccini pasta
125g Crozier Blue
150g Spinach leaves
75g Walnuts
How to make it
Crozier blue has a rich and well-rounded flavour, with a gentle saltiness offset with a touch of spice. It is so special it needs to be the main feature of a dish, such as this Spinach and Walnut Blue Cheese Fettuccini recipe. The flavours and textures combine to make every mouthful magnificent.
Cook the fettuccini in boiling water until al dente, approx 10 mins
Loosely chop the Spinach, then wilt by placing over the top of the boiling water in a steamer or sieve
Chop the crozier blue
Cut up the walnuts
Drain the pasta
Add the spinach, cheese and walnuts
Serve the blue cheese fettuccini with crusty bread and salty butter
Other recipes:
Crozier Blue is the perfect blue to use for a blue cheese dressing with its rich, full and well-rounded flavour. Here's a recipe.
The secret to a good burger is using beef mince with over 15% fat content. The secret to a GREAT burger is spicy, strong and complex Picos de Europa blue cheese.
Shropshire Blue Cheese Muffins are a joy for breakfast, snacks, lunches, picnics, soup side-dishes or suppers. They have a soft and bouncy sponge, and a kick of salty, nuttiness from the Shropshire Blue.