Beetroot, goat's cheese and pine nut crispbreads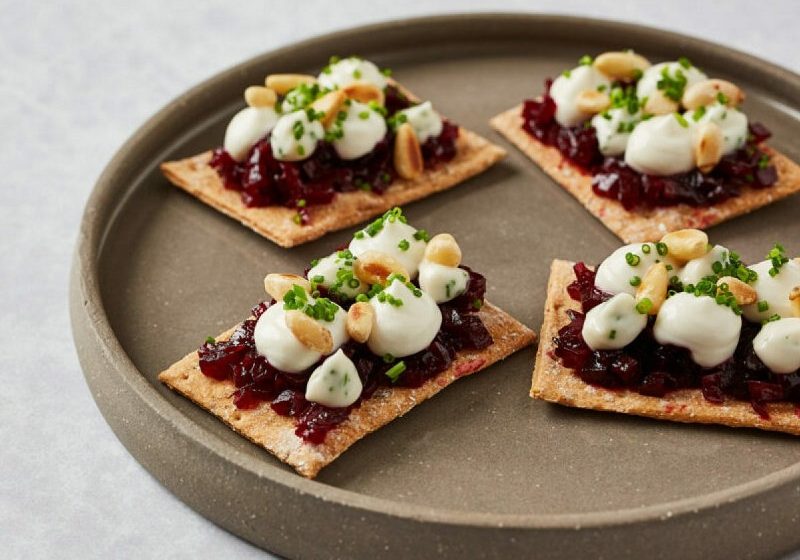 Ingredients
Makes 35 canapés
Cooking time: 60 minutes
For the beetroot jam:
150g of red onion
250g of beetroot, finely diced
110g of sugar
250ml of red wine vinegar
110ml of red wine
1 sprig of thyme
5 juniper berries, crushed
For the whipped goat's cheese: 
For the chive mayonnaise:
1 bunch of chives
200g of mayonnaise
 To serve: 
40g of pine nuts
chopped chives
How to make it
Michelin-starred chef Paul Welburn created this stunning beetroot, goat's cheese and pine nut canapé recipe with Peter's Yard sourdough crispbreads. While this recipe is involved, all of the elements can be made in advance meaning all you've got to do on the day is assemble them, and the flavours are worth the advanced effort.
Method:
Place all the ingredients for the beetroot jam into a pan and bring to the boil.
Turn down to a simmer and slowly reduce until a thick, jammy consistency is achieved.
Leave to cool.
Mix the goat's cheese with the cream cheese, whisk until light and fluffy and then season with smoked salt.
Transfer to a piping bag.
Toast the pine nuts in a hot dry pan until golden.
Finely chop the chives and stir through the mayonnaise.
Taste, season and transfer to a piping bag.
To assemble the canapés, first spoon a layer of the beetroot onto each crispbread.
Pipe over dots of the goat's cheese, then smaller dots of the chive mayonnaise.
Sprinkle with the pine nuts and finish with finely chopped chives.
Recipe courtesy of Peter's Yard, originally from Great British Chefs.
Other recipes
We love the combination of goat's cheese and pine nut, but pine nuts work fantastically in these recipes too:
Pine Nut, Pear and Blue Cheese Salad – This is a fabulous and easy starter idea. The trick to making this salad really come to life is to use a blue cheese that delivers a strong flavour hit, and Bleu d'Auvergne does just that.
Soft Cheese Pine Nut Muffins – vibrant strips of aromatic basil run through these delicious buttery cheese, pine nut studded muffins.
Creamy Cashel Blue Cheese Tagliatelle – Cashel Blue is a gorgeous sweet and creamy blue cheese with a unique tanginess. It's ideal for a cheese sauce and even better with pasta. Mix in with chopped walnuts or pine nuts for a different twist.
Pecorino Pesto Pasta – Here's a simple yet mouth-watering recipe that's easy to make. Tagliatelle with sweet pecorino pesto, fresh, herby and tasty…