Creamy Cashel Blue Cheese Tagliatelle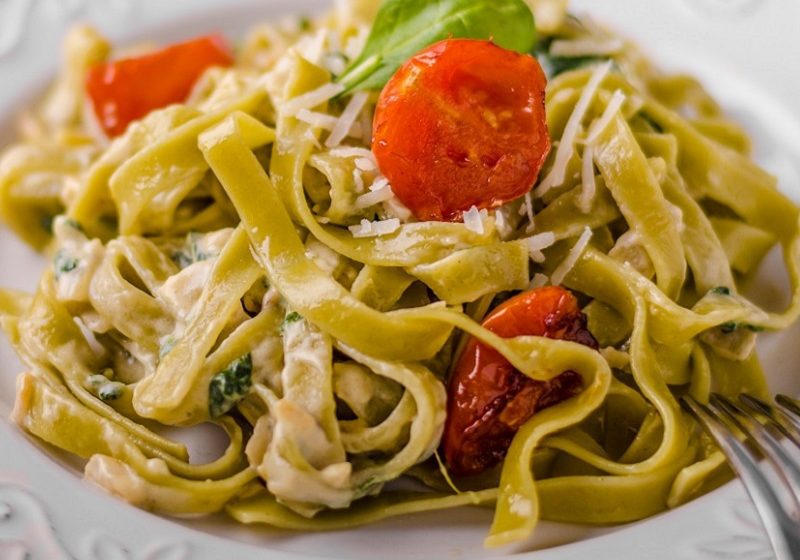 Ingredients
125g Cashel Blue
400g Dried tagliatelle
142ml single cream
1tsp olive oil
salt and pepper
1 garlic clove – peeled and crushed
150g baby tomatoes
handful of basil leaves
50g of rocket leaves
How to make it
Cashel Blue is a gorgeous sweet and creamy blue cheese with a unique tanginess, it's ideal for a cheese sauce and even better with pasta. Add chopped walnuts or pine nuts to this Blue Cheese Tagliatelle for a different twist.
Cook the pasta in a large pan of boiled water for the time stated on the packet.
To avoid it sticking to the pan, add a drop of oil.
In a small plan heat the oil.
Fry the garlic until just golden. Add a handful of chopped basil.
Add 100g of the Cashel Blue, cream, 2 tsp of water, and season to taste.
Drain the pasta and return to pan, adding in the creamy sauce.
To finish, sprinkle with the remaining Cashel Blue, a sprig of fresh basil, baby tomatoes.
Serve the blue cheese tagliatelle with rocket leaves.
Other recipes:
Here's a simple yet mouth-watering recipe that's easy to make – tagliatelle with sweet pecorino pesto, fresh, herby and tasty…
Beauvale by Cropwell Bishop is a slightly milder blue than Stilton, but with an excellent depth of flavour and rich, soft taste. It's perfect with pasta and balances well with meat which is why it's the ideal blue for this Steak Pappardelle.