Soft Cheese Pine Nut Muffins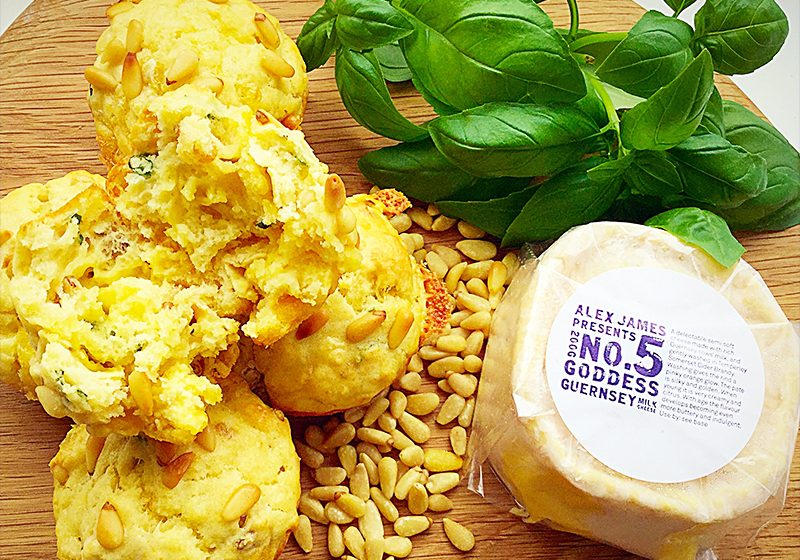 Ingredients
Recipe: Makes 12 Goddess Cheese Pine Nut Muffins
50g/2oz Pine Nuts

300g/11oz Plain White Flour (self raising can be substituted – leave out the baking powder)

2tsp Baking Powder

2 Whole Free Range Eggs

200ml Semi-Skimmed or Whole Milk

4tbsp Vegetable/Sunflower Oil

Soft Cheese 150g/5oz

6 basil leaves

1/4tsp Sea Salt

1/4tsp Freshly Ground Black Pepper

Method

: Preheat the oven to 200C/180C fan, gas mark 6
How to make it
Goddess Cheese Pine Nut Muffins vibrant strips of aromatic basil run through these delicious buttery cheese, pine nut studded muffins.
Method: Preheat the oven to 200C/180C fan, gas mark 6
Place the pine nuts into a dry skillet or frying pan and toast over a medium heat until golden. Remove from the pan and place on to a plate to cool. Reserve some pine nuts for topping the muffins.
Sift the flour and baking powder into a large bowl.
Pile the basil leaves on top of each other and cut into fine strips.
Add the cooled pine nuts, basil, and seasonings to the bowl.
Stir with a fork to incorporate.
Break the soft cheese into lumps and add half to the flour mixture.
Cover the cheese in the bowl with the flour mixture. This will stop it clumping together.
Add the other half of the cheese, again pinching off gooey lumps and dropping them into the bowl. Cover in the flour mixture as before – dry mixture.
Into a jug add the milk, oil and eggs. Lightly mix with a fork – wet mixture.
Make a well in the centre of the dry mixture and pour in the wet mixture.
Stir with a fork approximately 10-12 times until the ingredients are just mixed
Place muffin liners in a muffin tin – it makes the muffins easier to remove.
Divide the muffin mix between the 12 cases.
Top with the reserved pine nuts – if you have forgotten to reserve any don't worry they will still look and taste delicious.
Place the tin in the top of the oven and bake for approximately 15 minutes.
The muffins are cooked when they are just firm to touch and golden brown.
Once baked remove the muffins from the oven.
This recipe is courtesy of Feasting is Fun.