Canadian Bacon and Blue Cheese Flan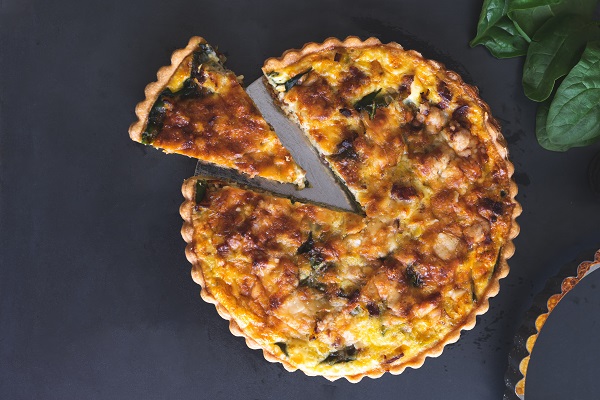 Ingredients
225g plain flour
100g butter, diced
Salt
8 rashers of Canadian Maple Bacon
3 medium eggs
150ml milk
salt and pepper
How to make it
North America meets North England in this Bacon and Blue Cheese Flan, as we use Canadian Maple Bacon and Yorkshire Blue. One is sweet and tender, the other is salty and adds smoothness. Together, world-class.
Shortcrust pastry (you can also use pre-bought pastry)
Sift 225g plain flour into a large bowl
Add 100g diced butter and rub in with your fingertips until the mixture resembles fine breadcrumbs
Stir in a pinch of salt, then add 2-3 tbsp water and mix to a firm dough
Knead the dough briefly and gently on a floured surface
Grease a flan dish and place your pastry into the dish, pushing up to the sides and trimming as necessary
Pre-heat the oven to 200°C/180°C Fan
Prink the base and place in the fridge to chill
Filling
Beat the eggs with the milk, season to taste
Cut the bacon into small pieces
Fry until cooked and the fat is crispy
Spoon the bacon into the pastry base, then cover with cubes of the blue cheese
Pour over the egg and milk mixture
Bake for around 25 – 30 mins, until the pastry is golden brown and the filling doesn't wobble
Serve with boiled potatoes, salad and chutneys.
Other Pastry Recipes
This Emmental and Onion tart is very simple to recreate and would be great as a main course and can be eaten either hot or cold.
Popular in the 80s, salmon en croute is traditionally made with cream cheese, but in this recipe we've used Camembert for extra creaminess and deliciousness! Here's the method…
A lovely little mid-week dinner, and easy to make if you use ready-rolled puff pastry. The perfect family dish, ideal for a snack or buffet.
Sweet red onion and Blue Cheese is a classic flavour combo, especially paired with buttery pastry. Imagine this Blue Cheese Tart with home made pastry!