Camembert and Smoked Salmon en Croute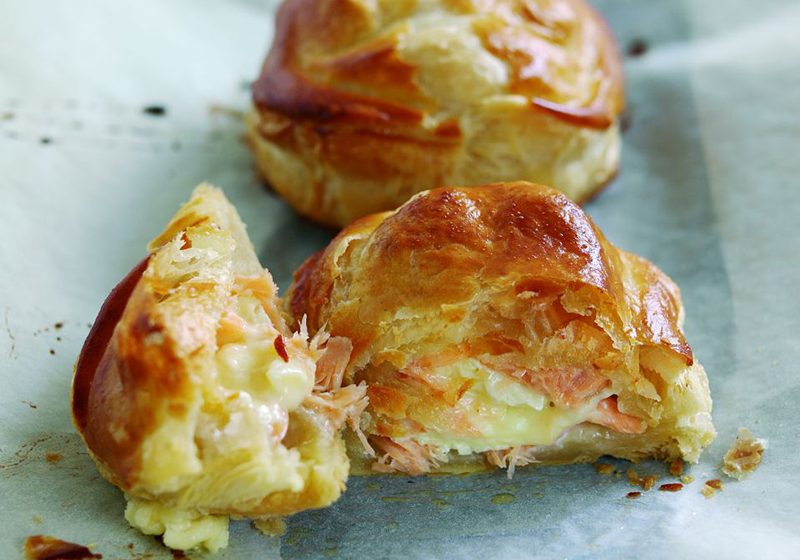 Ingredients
Serves 4
Good quality olive oil
450g puff pastry
4 slices smoked salmon
4 wedges Camembert AOC
4 small pre-cooked beetroots
2 tbsp chopped horseradish from a jar
2 shallots, finely diced
2 tsp red wine vinegar
4 tsp port
4 tsp cassis
2 egg yolks beaten
Salt and pepper to taste
How to make it
Popular in the 80s, salmon en croute is traditionally made with cream cheese, but in this recipe we've used Camembert for extra creaminess and deliciousness! Here's the method…
Preheat the oven to 180C.
Cover the French Camembert with smoked salmon and shape into rounds.
Roll and cut the puff pastry into 8 discs. Place a wedge of French Camembert onto one disc and carefully seal the edges. Brush with egg yolk.
Repeat this with the other three wedges of Camembert. Place on a baking tray and cook for around 15-18 minutes.
Grate the beetroot and mix with the horseradish and season with salt and pepper.
Reduce the alcohol with the shallots and vinegar by 50% and add to the beetroot mixture.
Serve the French Camembert onto four warm plates, add the beetroot mix, season with rock salt and drizzle with olive oil.
This Salmon en Croute recipe courtesy of David Mutter, regional winner of the Vive le Cheese competition in Scotland, and www.vivelecheese.co.uk
Other recipes
What is better than deep fried, warm and gooey cheese? Serve these bites as a starter or as smaller wedges for parties with a side of Chilli Chutney and they'll be the star of the show.
Camembert Risotto is a rich and comforting take on an Italian classic with gentle leeks and creamy cheese. Perfect for midweek dinner.