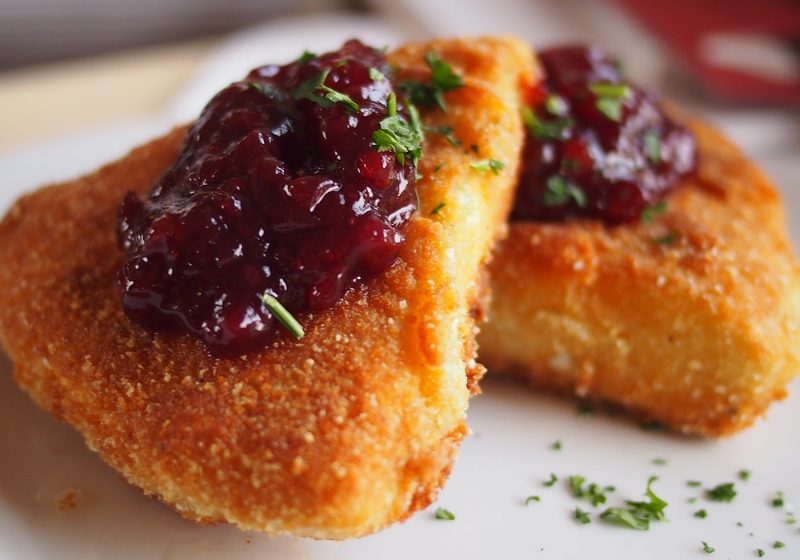 How to make it
What is better than deep fried, warm and gooey Camembert? Serve as a starter or as smaller wedges for parties with a side of Cartwright and Butler Tomato Chilli Chutney and they'll be the star of the show. Just ensure you make enough!
In a bowl whisk together the cream and egg
In another bowl place the flour
In another bowl, the breadcrumbs
Divide the Camembert de Normandie AOC into 6 equal wedges
Take a wedge and lightly coat with the flour, then dunk into the wet mixture, then the breadcrumbs ensuring you coat it well
Continue until all wedges are covered
Heat 2 inches of oil in  large saucepan to 200°C
Place some paper towels on the worktop and working in small batches, place the wedges into the oil, frying until golden brown (about 1 minute each), then using a slotted spoon place on the paper towels
Note: don't add all the wedges at once as this will lower the temperature of the oil
Season with salt
Serve the deep fried Camembert with Cartwright and Butler Tomato Chilli Chutney on the side
Other recipes:
Serve these Westcombe Cheddar and bacon stuffed baby baked potatoes from the oven whilst still warm for a really delicious party nibble.
These blue cheese straws are a great opener for a dinner party. Using a dry crumbly blue will ensure the straws don't become too soft after baking.