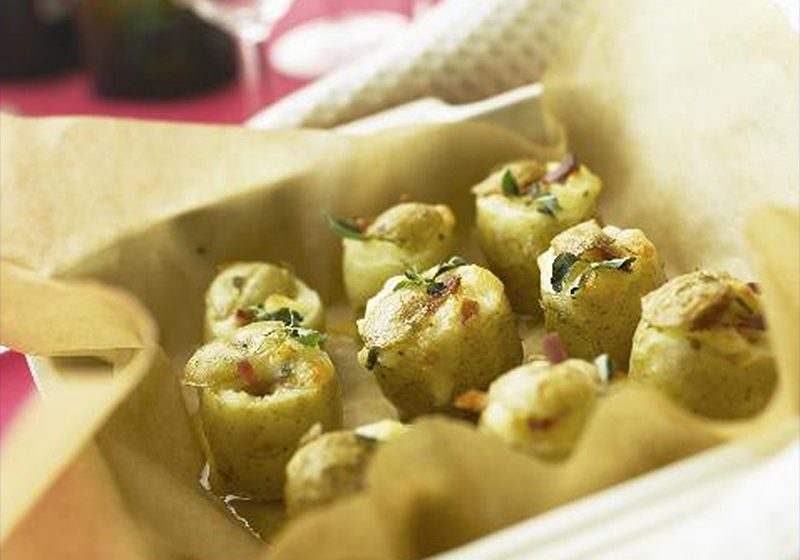 Ingredients
(Makes: 20 mini potatoes)
20 Medium size new potatoes
4 Rashers lean smoked back bacon
125g/5oz Westcombe Cheddar
50g/2oz Butter
Pinches Salt, ground black pepper and nutmeg
1 tbsp Extra virgin olive oil
Sprigs Oregano or flat leaf parsley to garnish
How to make it
Serve from the oven whilst still warm for a really delicious party nibble. Very popular with adults and children too especially if they can have some tomato ketchup to dip them into!
1. Simmer the potatoes until just tender. Grill bacon until crisp.
2. Cut tops of each potato and using a small sharp knife scoop out the flesh. Cut thin strips off potato bases if necessary so that the potatoes can stay upright.
3. Combine potato flesh with the butter and cheese using a fork. Season well and stir in the bacon.
4. Using a teaspoon carefully spoon filling back into the potato shell and top with the potato lids at a jaunty angle.
5. Brush liberally with the olive oil. Rest in a baking dish lined with baking parchment and cook at 200°C/400°F/Gas Mark 6 until the filling is golden and the cheese is oozing
6. Garnish and serve whilst still warm.
(Courtesy of the British Cheese Board)