Wiltshire Ham and Westcombe Cheddar Pin Wheels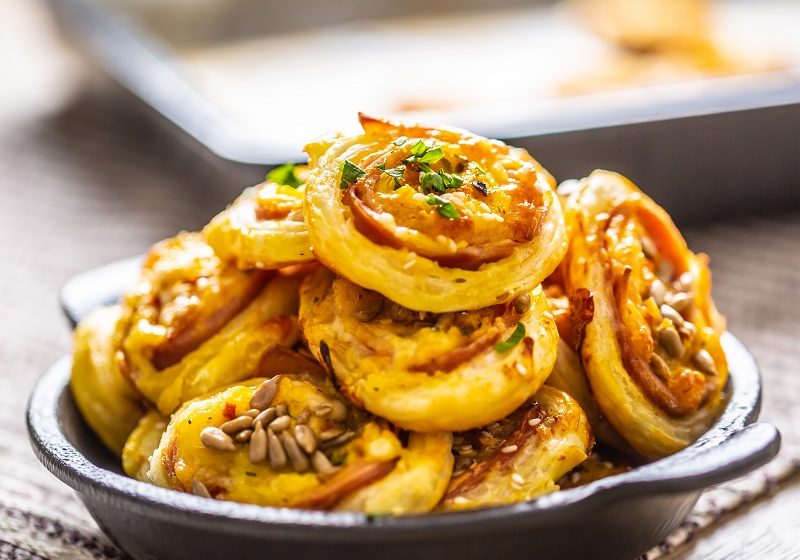 Ingredients
Makes approx 20
320g Ready Rolled Puff Pastry Sheet
100g Wiltshire Finely Sliced Ham (or approx 6 slices)
3tsps English Mustard (Optional)
150g Westcombe Cheddar, grated
50g pine nuts
How to make it
Cheddar Pin Wheels are great as party appetisers or as snacks, and they are simple to make and can even be frozen so that you can throw them in the oven when unexpected guests turn up.
Make your life simple and use ready-rolled puff pastry. Ensure it's been left at room temperature for an hour (or fully defrosted)
Unroll the sheet onto a work surface and roll into a rectangle
Smear the dough with a light layer of mustard (optional)
Add the ham slices
Cover with the grated Westcombe Cheddar
Roll the pastry into a log and trim the ends so they are even
Cover with clingfilm and place in the fridge for 30 minutes
Preheat the oven to 190°C Fan / 375°F / Gas Mark 6
Once chilled, remove and cut into slices
place the slices on their side on a lined baking sheet – spiral-side up
Sprinkle a few pine nuts over each
Bake for about 18 minutes
If you are making these Cheddar Pin Wheels to freeze then once you've cut the slices, re-wrap and place in a sealed bag. Then bake at 180°C Fan for around 25-30 minutes.
Other Westcombe Cheddar recipes:
Westcombe Cheddar and Chilli Bread has rich and earthy tones that is melt-in-your-mouth gorgeous. Serve warm with a knob of butter.
Serve these Westcombe Cheddar and bacon stuffed baby baked potatoes from the oven whilst still warm for a really delicious party nibble