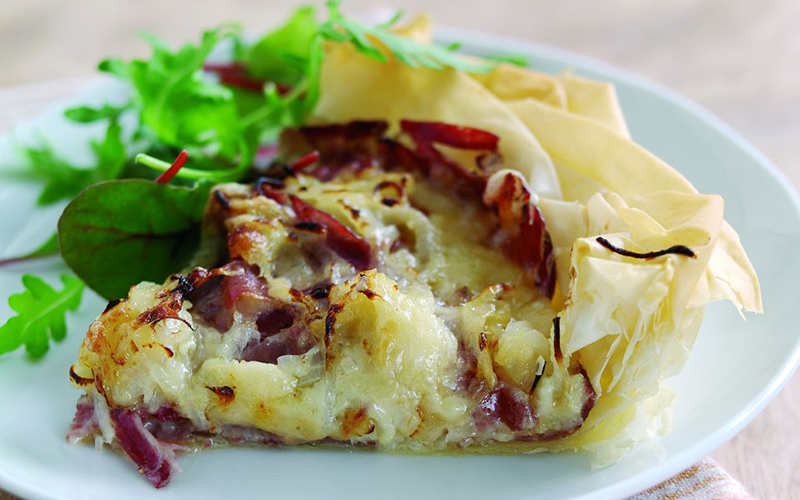 Ingredients
Preparation time: 10 minutes
Cooking time: 30 minutes
Serves 6‐8
Ingredients:
200g Emmental cheese
500g onions – thinly sliced
150g Cornish Coppa, Palma ham or pancetta – pre‐sliced
100g unsalted butter
2 egg yolks
5 filo pastry sheets
How to make it
This dish is very simple to recreate and would be great as a main course and can be eaten either hot or cold. This Emmental and Onion tart is great when accompanied by a Beurre Blanc sauce and watercress salad.
You may have had a fondue recently and if so you're likely to have some Emmental left over. Emmental is a medium hard cheese with a slightly sweet and nutty taste.
Method:
Start by melting ½ the butter and brush each filo pastry sheet. Line a 10" flan ring by layering the pastry sheets on top of each other and cook in the oven at 175C for approximately 10 minutes or until they are golden brown.
For the filling, melt the remainder of the butter in a saucepan, add the onions and cook until soft. Remove from the heat and allow them to cool slightly, then mix in the French Emmental and egg yolks. To fill the tart, start with a layer of Coppa ham in the bottom, then alternate layers of the French Emmental mix and Coppa ham, finishing with the French Emmental mix.  Return to the oven and cook for 20 minutes at 175C.
This Emmental and Onion tart was created by Dez Turland, national winner of the Vive le Cheese competition.