Mature Cheddar, Rosemary and Red Onion Tart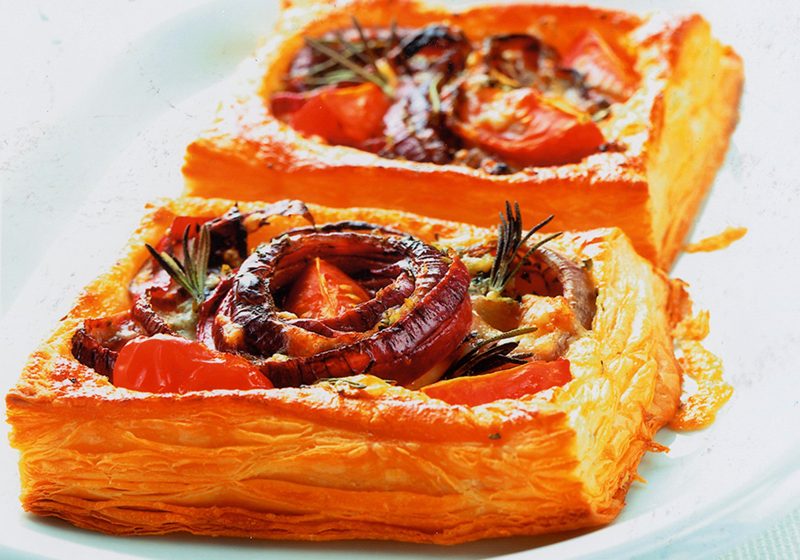 Ingredients
(Serves 4)
1 ready-rolled puff pastry sheet, thawed
15g (1/2oz) butter
1 tablespoon olive oil
2 large red onions, sliced
1 rounded teaspoon light or dark muscovado sugar
salt and freshly ground black pepper
1 teaspoon dried mixed Italian herbs
75g (3oz) mature Cheddar Cheese, grated
a few sprigs fresh rosemary or thyme
How to make it
This Red Onion Tart makes a lovely little mid-week dinner, and easy to make if you use ready-rolled puff pastry. The perfect family dish, ideal for a snack or buffet.
1. Preheat the oven to 220°C / 425°F / Gas Mark 7. Lightly grease a baking sheet and lay the puff pastry sheet on top.
2. Heat the butter and oil in a frying pan and add the red onions. Cook, stirring occasionally for 5 minutes, then add the sugar and cook for another few minutes until the onions are very soft and caramelised. Season with salt and pepper and add the dried herbs. Cool for a few minutes.
3. Spread the onions over the pastry sheet to within 2cm (3/4 inch) of the edges. Scatter the Cheddar Cheese on top, then add the rosemary or thyme sprigs.
4. Transfer to the oven and bake for 12 – 15 minutes until puffed up and golden brown. Cool for a few moments, then slice and serve.
(This Red Onion Tart recipe is courtesy of the British Cheese Board)
Other recipes
Popular in the 80s, salmon en croute is traditionally made with cream cheese, but in this recipe we've used Camembert for extra creaminess and deliciousness! Here's the method…
We love this recipe from Milk Made, where oozing brie meets sweet, fattened figs. This tart is neither very sweet nor very savoury. You could serve it for lunch with a green salad, or for dessert with sweet yoghurt.
Mini Sparkenhoe Red Leicester Cheese Tarts – delicious morsels of light, flaky, puff pastry, filled with onion marmalade and topped with vibrant, melted Sparkenhoe Red Leicester cheese. Resulting in the perfect party canapé.