Mini Sparkenhoe Red Leicester Cheese Tarts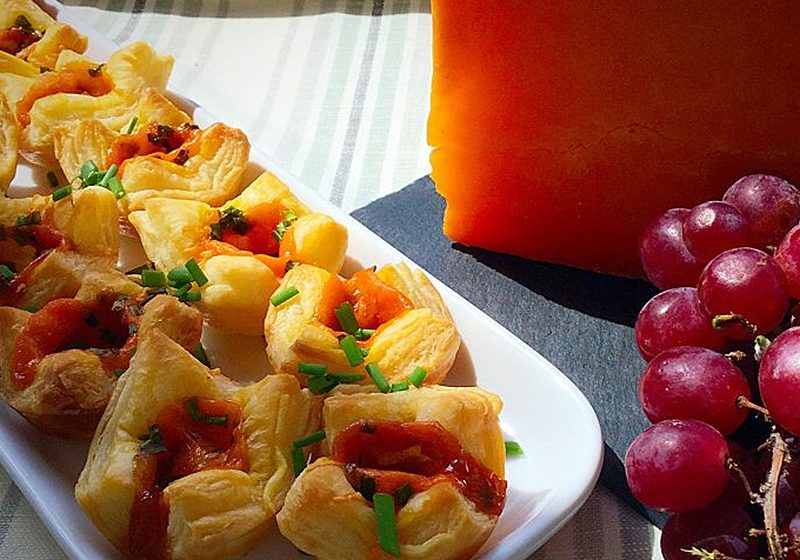 Ingredients
Recipe: Makes 28-32 Mini Red Leicester Tarts
Method: Preheat the oven to 220C/200C fan, gas mark 7
You will also need a mini muffin tin
How to make it
Mini Sparkenhoe Red Leicester Cheese Tarts – delicious morsels of light, flaky, puff pastry, filled with onion marmalade and topped with vibrant, melted Sparkenhoe Red Leicester cheese. Resulting in the perfect party canapé.
If frozen remove the pastry from the freezer and allow to thaw in the fridge overnight.
Cut the rind from the cheese and finely grate.
Unroll the pastry and cut into 5cm/2″ squares.
If your mini muffin tin is not non stick then spray with a little oil.
Place one pastry square on to each mini muffin hole and press gently so that it dips in and forms a cup.
Add 1/4 teaspoon of onion marmalade to each pastry square.
Place 1 teaspoon of finely grated Sparkenhoe Red Leicester cheese on top of the onion marmalade.
Snip over a sprinkle of fresh chives.
Place the tin in the middle of the preheated oven and bake the tarts for 10-12 minutes. They are baked when they are risen, golden and full of bubbling, melted cheese.
This Red Leicester Cheese Tarts recipe is courtesy of Feasting is Fun.
Other recipes from Feasting is Fun…
These Bath Soft Chilli Tarts are perfect for parties. Crisp, crunchy, golden filo pastry encases a layer of chilli pickle, smothered in melting Bath Soft Cheese.
Goddess Cheese Pine Nut Muffins vibrant strips of aromatic basil run through these delicious buttery cheese, pine nut studded muffins.