Bath Soft Cheese Chilli Tarts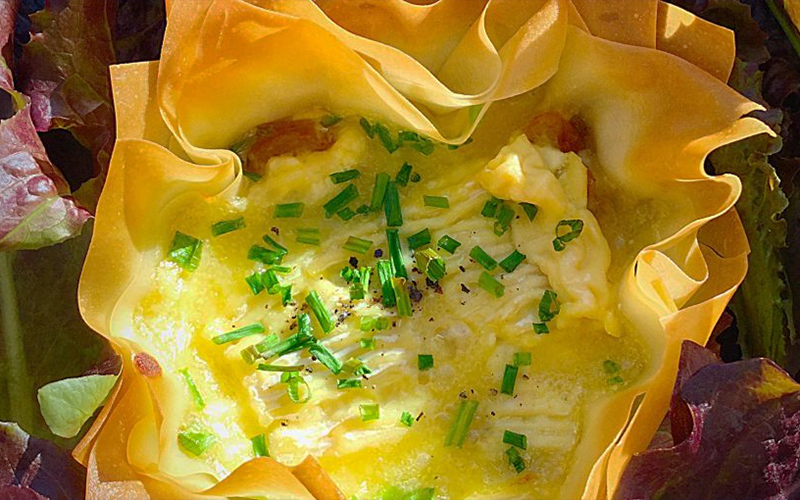 Ingredients
Recipe: Makes 6 Bath Soft Cheese Tarts
250g Bath Soft Cheese
1 Packet of Filo Pastry – you will need 4-5 sheets
100g Unsalted Butter melted and cooled
1/2 Jar Chilli Pickle
2-3tbsp Freshly Chopped Chives
1/2tsp Freshly Ground Black Pepper
How to make it
Crisp, crunchy, golden filo pastry encases a layer of chilli pickle, smothered in melting Bath Soft Cheese – these Bath Soft Chilli Tarts are perfect for parties. 

Baking the chilli pickle and Bath Soft Cheese wakes up the flavours and when placed in a buttery, filo pastry tart. The result is a remarkably delicious dish.
Method: Preheat the oven to 180C/160C fan, gas mark 4
Place 6 loose bottom tart tins on a baking tray.
Brush each tart tin lightly with melted butter using a pastry brush.
Place one filo pastry sheet on to a board or pastry mat. Brush lightly with melted butter.
Using a sharp knife cut the filo pastry sheet into equal quarters. Then cut each quarter in half, from top to bottom to make 8 squares/rectangles.
Start by laying 1 square of filo pastry in the tart tin, gently pressing it so that it sticks to the base and the sides.
Add another square of filo pastry, laying it slight offset from the first piece. The idea is to build up layers that form a solid tart shell with lots of edges/corners on the side, which will become golden and crisp on baking.
Build up 5 layers of filo pastry to create a solid tart shell.
Continue building the tart case until you have used 5 separate layers of filo pastry.
When all 6 tart cases have been built, spoon 2 generous teaspoons of Chilli Pickle into the base of each one.
Cut the block of Bath Soft Cheese into 6 portions.
Place a square of cheese on top of Chilli Pickle in each tart case.
Sprinkle the top of each tart with a little freshly ground black pepper and some freshly snipped chives. Reserve half of the chives for garnish once baked.
Place the Bath Soft Cheese Chilli Tarts in the top of the oven and bake for 15-18 minutes.
The tarts are cooked when the filo pastry is crisp and golden and the cheese has melted to fill each tart.
Once baked remove the baking tray from the oven and allow the tarts to cool in their tins. Best served warm.
For the original recipe visit Feasting Is Fun.