Red Onion and Blue Cheese Tart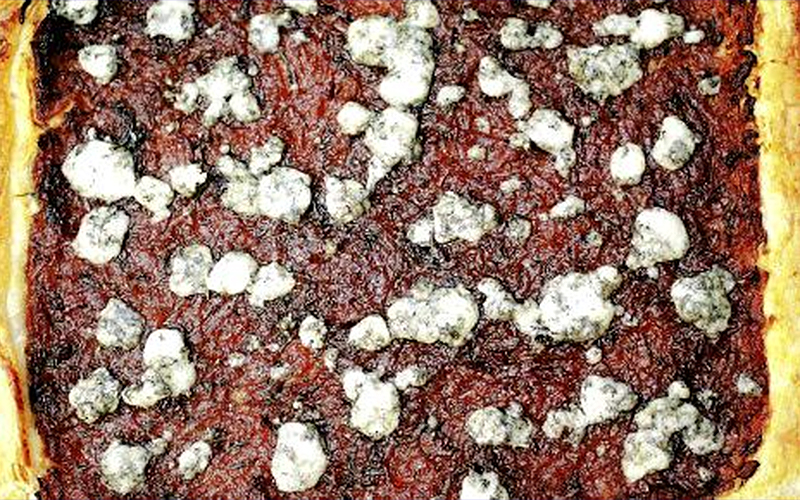 Ingredients
(Serves 4)
50g unsalted butter
6 red-skinned onions, finely sliced
2tbsp fresh thyme leaves
1tsp fine salt
375g pack puff pastry
100g Cropwell Bishop Stilton or Bath Blue
Freshly milled black pepper
How to make it
Sweet red onion and Blue Cheese is a classic flavour combo, especially paired with buttery pastry. We use ready-made pastry for this Blue Cheese Tart but just imagine this recipe with pastry home made!
Melt the butter in a large, deep frying pan and sweat the onions with the thyme and salt over a low to medium heat for 20 to 30 minutes until they are soft and lightly coloured. Tip into a colander and leave to drain and cool. Season with pepper.
Line a baking tray with non-stick baking parchment. Roll out the pastry on a floured surface until 3mm thick. Cut out a 30 x 23 cm rectangle. Place it on the parchment-lined tray and prick all over with a fork. Spread the cooled onions evenly over the pastry rectangle, leaving a 2 cm border clear. Fold the border in to make a double-thickness "frame" all around, pressing to seal. Refrigerate for 30 mins.
Heat the oven to 180 degrees C fan (200 degrees C/ gas 6).
Bake the Blue Cheese Tart for 20 to 25 minutes until the pastry is golden. Crumble the cheese in top, then bake for a further 3 minutes, until the cheese has just started to melt. Serve hot or at room temperature.
Other recipes
This Emmental and Onion tart dish is very simple to recreate and would be great as a main course and can be eaten either hot or cold.
Popular in the 80s, salmon en croute is traditionally made with cream cheese, but in this recipe we've used Camembert for extra creaminess and deliciousness! Here's the method…