Chargrilled chicken and asparagus risotto with Wyfe Of Bath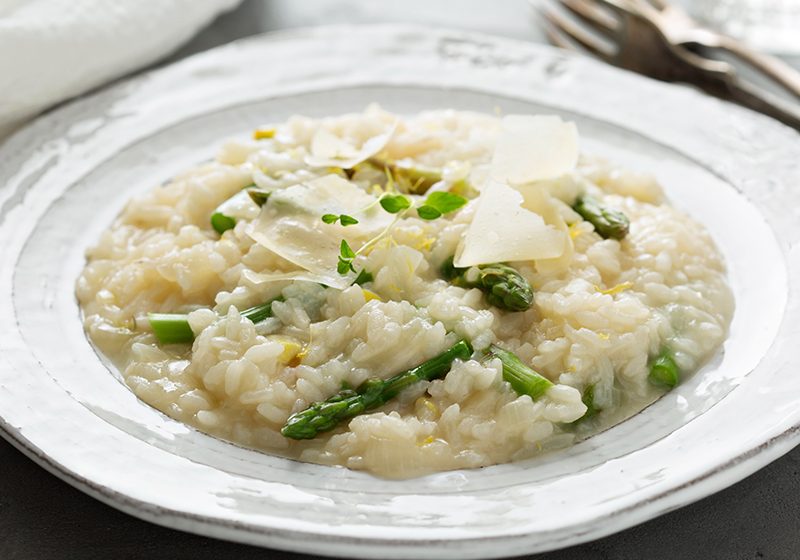 Ingredients
Serves 4
2 chicken breasts
250g Wyfe Of Bath Cheese
2 small onions (or 4 shallots)
1 sprig of thyme
1 bay leaf
1 knob of butter
300g Arborio rice
¾ litre chicken stock
1 bunch of asparagus
1 glass of Marsala or Sherry
1 tbsp double cream
½ butternut squash
Salt and pepper
How to make it
This rich and creamy risotto uses Wyfe of Bath, which adds some extra buttery-ness to the dish. Great for lunch, dinner or a starter!
Chop the butternut squash into cubes and roast in a preheated oven (180C). Meanwhile melt the butter in a large pan and fry the onion till its soft. Now add the rice to the onion and shake the pan over the heat for about 2-3min, moving the rice around. Add the wine, letting the rice absorb it, then the chopped thyme and the bay leaf. Ladle in the stock, adding a new ladleful as it is soaked up by the rice. This should take about 15 minutes.
5 minutes before the risotto is ready pan fry or chargrill the chicken and slice into generous pieces. Now blanche the asparagus in boiling water and then chop into inch-long pieces. Add the asparagus to the finished risotto and stir until warmed through. Add the cream, the butternut squash and grate in half the Wyfe Of Bath cheese, season and stir the whole thing together until you have a rich, creamy texture. Serve immediately and place the chicken pieces over the top and slice over the rest of the Wyfe Of Bath.