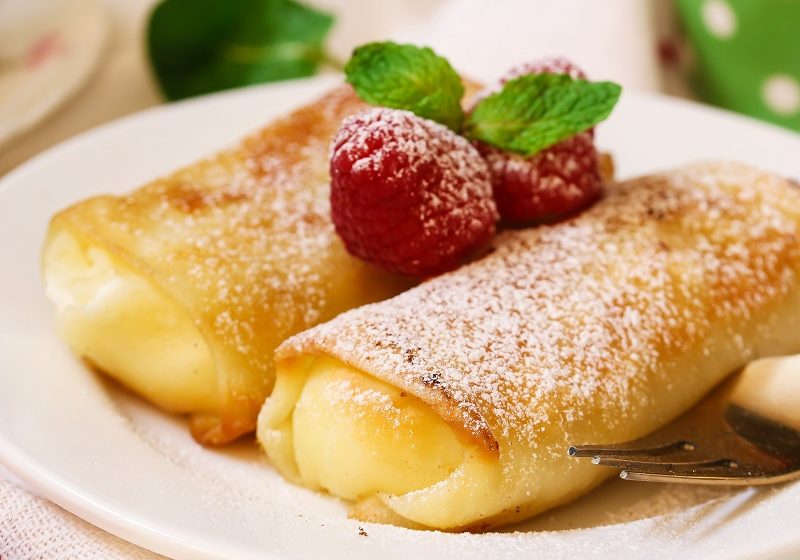 Ingredients
100g plain flour
2 free-range eggs
300ml semi-skimmed milk
25g unsalted butter
1 tbsp vegetable oil
100g Isle of Mull Cheddar
How to make it
Cheese crepes are the world's answer to whether you should have cheese, or cake for dessert (the answer is, of course, BOTH). These cheddar-filled crepes are also great for breakfast, brunch, lunch or a snack, so easy to make and absolutely delicious. We use Isle of Mull Cheddar because it melts well and has a fruity, sharp, tangy flavour.
Sieve the flour into a large bowl
Make a well in the centre and crack in the eggs
Beat the eggs with a fork, gradually incorporating the flour from the outside of the well as you mix
Pour in the milk, whilst whisking, until the batter is smooth
Stir in the melted butter
Cover with a cloth and leave to rest
Cut large slices of Isle of Mull Cheddar, a big lump about 1/2 cm in width is needed for each serving
Heat the oil in a frying pan over a medium heat, add a knob of butter
When the butter has melted, spoon some of the batter into the pan
Swirl the pan around until the batter has coated the bottom
Cook for 1–2 minutes on each side, or until golden brown
Place the chunk of cheese in the middle of the pancake and fold the pancake over until the cheese is wrapped up
Leave until the cheddar has melted nicely
Repeat with the remaining batter
Serve the cheese crepes warm, with a sprinkling of icing sugar if you want to look fancy.