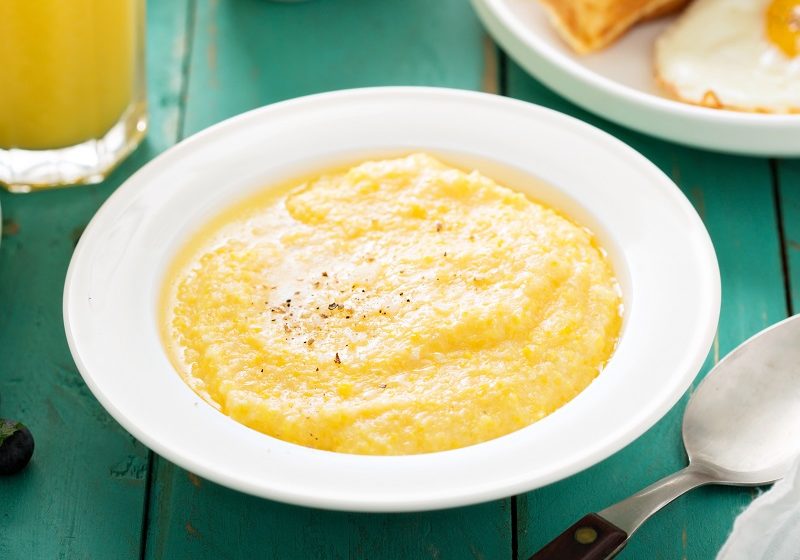 Ingredients
1L chicken or vegetable stock
750ml whole milk
1 tbsp salt
1/4 tsp cayenne pepper
125g grits
150g grated Lancashire Bomb
60g unsalted butter
Freshly ground black pepper
How to make it
Cheese Grits are a regional specialty in the American South,  originally consisting of dried corn ground into a coarse, gritty texture, hence the name. Nowadays it's often served with cheese and spices to liven the dish up. In this recipe we've used strong, creamy Lancashire Bomb to really blow the dust off your taste buds!
Grits aren't available to buy in every supermarket, but are available in specialist aisles, or online. Grits are the kernels of a particular maize variant, called Dent. It's dried and then soaked in lime which softens the husk and allows the kernel to pop out. The kernels are then dried and ground to produce the coarse white grain. Some prefer to use polenta for this dish, which is similar.
In a saucepan combine the stock, milk, salt, and cayenne and bring to a boil.
Slowly whisk in the grits and lower the heat to a simmer.
Cover and cook, stirring occasionally, until thickened, about 30 minutes.
Stir in the Lancashire bomb cheese and butter until the mixture is smooth and even.
Season with pepper to taste.
Cheese grits really are as simple as that! Ideal for a hearty breakfast, or served as a side dish with shrimp for a touch of authenticity.