Leek, Broccoli and Stilton Soup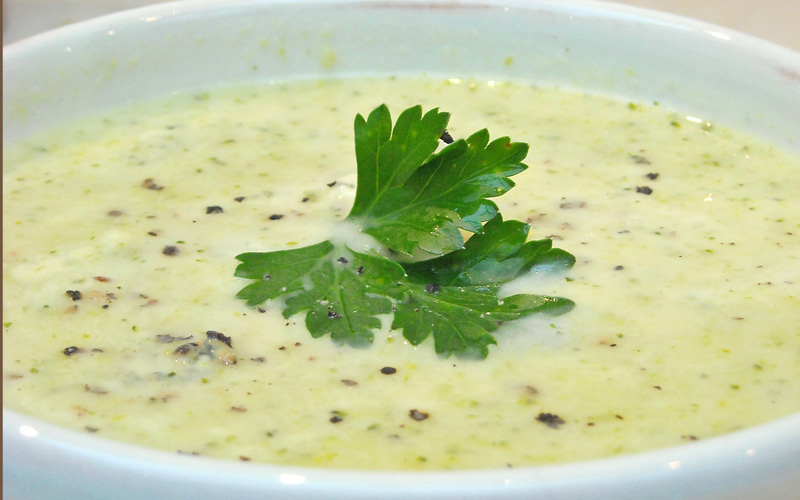 Ingredients
(Serves 4)
1 onion
2 tbsp oil
30g (1oz) butter
3 leeks
a head of broccoli, sliced
2 pints of chicken stock
150ml (5 floz) cream
60g (2oz) Cropwell Bishop Stilton
How to make it
Create a gourmet meal at home with this easy Leek, Broccoli and Stilton Soup recipe. Perfect to warm the cockles on a cold Winter's night.
Gently fry the onion in butter for few minutes. Add the leeks and broccoli and sweat for 5 mins. Next add the stock and simmer until broccoli is cooked but still looking fresh and green.
Add cream and whizz in the blender until smooth. Return the Stilton soup to the pan and gently crumble in the glorious Cropwell Bishop. Serve with a crusty baguette or farmhouse cobber.
Other soup recipes
Feed your soul with this winter-warming delicious watercress and celeriac soup, with a crunchy goat's cheese crouton.
This creamy broth-soup will make you think of New England Chowder but with Old English flavour from the Cave Aged Cheddar.
The creamy, tangy and complex flavours of Somerset Organic Cheddar comes to life in this warming and hearty soup. Serve with a hunk of bread of a glass of your favourite Cider for a West Country celebration.
This Grilled Cauliflower and Cheese Soup is as gorgeous as a Sunday roast, but smoother! Serve the soup with warm soda bread or freshly made cheese scones.
If you make these cheese scones small they'll be delicious to eat with soup. The taste of Berkswell is sweet and dryish, very similar to a Pecorino, and if you include the rind you'll get delicious hits of flavour melting into the dough.