Watercress and Celeriac Soup with Goat's Cheese Crouton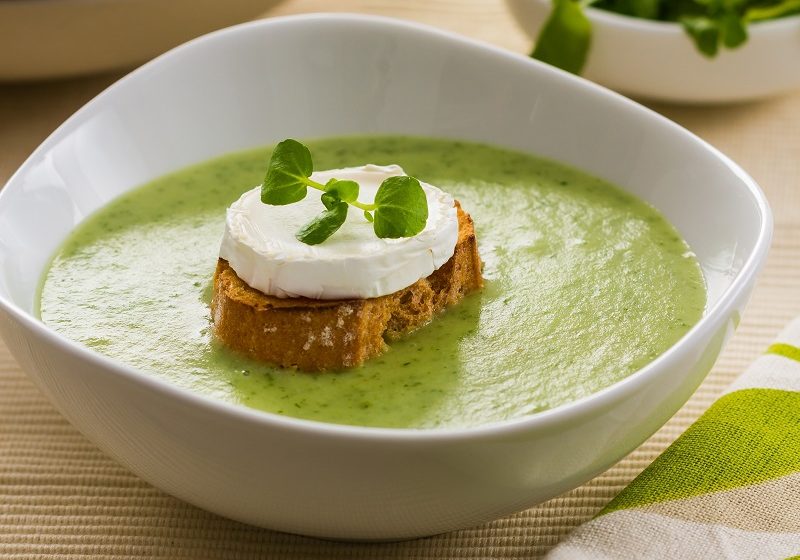 Ingredients
Serves 6
4 leeks, washed and sliced
50g butter
1 tbsp olive oil
1 celeriac, peeled and diced
1½ l vegetable stock
2 x 100g bags watercress
6 slices toasted baguette
100g soft vegetarian goat's cheese
a few sprigs watercress, to serve
How to make it
Feed your soul with this winter-warming delicious watercress and celeriac soup, with a crunchy goat's cheese crouton.  Any of our Goat's cheeses would work for this, but how about trying Valençay AOC, part of the Christmas Explorer and Christmas Extravaganza Cheese boxes?
Gently cook the leeks in the butter and olive oil until soft but not coloured.
Add the celeriac and stock, bring to the boil and simmer until the celeriac is soft.
Add the bags of watercress and blend until smooth, then season.
Cool. Will freeze for up to 3 months.
To serve, defrost the soup in the fridge overnight, then tip into a saucepan and reheat.
Top each toasted baguette slice with some goat's cheese to make the goat's cheese crouton, then add a slice to each bowl with a sprig of watercress.
For the full BBC Good Food recipe click here.
Other soup recipes
This creamy broth-soup will make you think of New England Chowder, though with it's Wookey Hole Cave Aged Cheddar contribution this is full of English flavour.
The creamy, tangy and complex flavours of Somerset Organic Cheddar comes to life in this warming and hearty soup. Serve with a hunk of bread of a glass of your favourite Cider for a West Country celebration.