Fish and Wookey Hole Cheddar Soup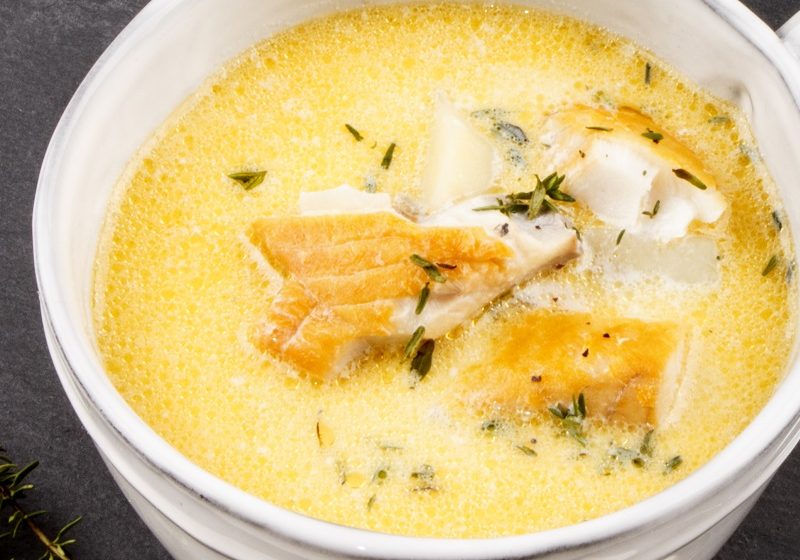 Ingredients
Serves 6
8-12 new potatoes
600g sustainable white fish
2 tbsps chopped chives, plus some to garnish
300ml milk
2 egg yolks
300ml double cream
60g  Wookey Hole Cave Aged Cheddar
Salt and pepper
How to make it
This creamy cheddar soup will make you think of New England Chowder, though with it's Wookey Hole Cave Aged Cheddar contribution this is full of Old English flavour. Any white fish will work in this soup but check the latest MSC lists – the latest advice is to try UK-landed pollack, coley, hake or whiting, or MSC certified Alaskan pollock.
To serve you'll need 6 large ramekins (approx 9cm diameter)
With the skins still on, boil the potatoes until tender
Once cool, slice into rounds
Preheat oven to 230°C / Gas Mark 8
Bring the milk to the boil
Put the egg yolks into a bowl and gradually whisk in the hot milk, followed by the cream. Season with salt and pepper
Divide the fish between the ramekins, followed by the chives. lay a few slices of potato on top
Pout the mixture over the fish until they're nearly full
Scatter over the crumbled Wookey Hole Cave Aged Cheddar
Bake for 10-15 minutes until the fish is cooked and the tops are lightly browned
Sprinkle the cheddar soup with chives and serve with hunks of bread
Other recipes
If you'd prefer a soup without fish try this Leek, Broccoli and Stilton Soup.
The creamy, tangy and complex flavours of Somerset Organic Cheddar comes to life in this warming and hearty soup. Serve with a hunk of bread of a glass of your favourite Cider for a West Country celebration.