Grilled Cauliflower and Cheese Soup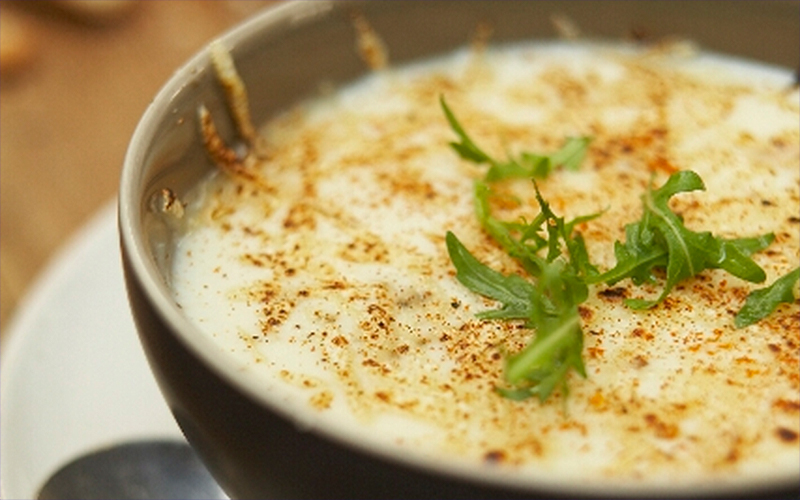 Ingredients
1 medium cauliflower, about (850g), broken into florets
350g onions, peeled and finely chopped
1 tbsp rosemary sprigs
2 garlic cloves, peeled and finely chopped
2 tbsp olive oil
1 tbsp flour
900ml milk
500ml chicken stock
125g hard cheese, finely grated Buy Hard Cheese
1 tsp paprika
Ground black pepper
Rocket to garnish
How to make it
This grilled cauliflower and cheese soup is a dinner in itself, creamy and smooth and rich. Serve with some cheddar scones for extra decadence.
In a large saucepan heat the oil and stir in the onion and cauliflower, garlic and rosemary. Cook, stirring, for at least 10 mins or until the onion is very soft and a golden colour.
Stir in the flour, milk and chicken stock. Season and bring to the boil. Cover and simmer gently for about 30 -35 min or until the cauliflower is very soft.
Cool the soup a little then puree in a blender or processor. Return the soup to the rinsed pan and reheat gently. Dilute, if necessary, with a little extra stock and correct the seasoning.
Turn the grill on to high. Place the bowls in a roasting tin. Stir 50g grated hard cheese into the soup and ladle into shallow heatproof soup bowls (the bowls need to be quite full). Sprinkle the reserved cheese and a little paprika over the soup.
Boil a kettle of water and pour the hot water into the roasting tin around the base of the bowls to make a bain-maire. Using oven gloves, carefully lift the roasting pan under the grill and cook for about 5-10 min or until the tops are golden and bubbling. Carefully remove the roasting tin from the grill and lift the bowls out. Gently wipe dry and garnish with rocket. Serve the soup with warm soda bread or freshly made cheese scones.
(This cauliflower and cheese soup recipe is courtesy of the British Cheese Board)