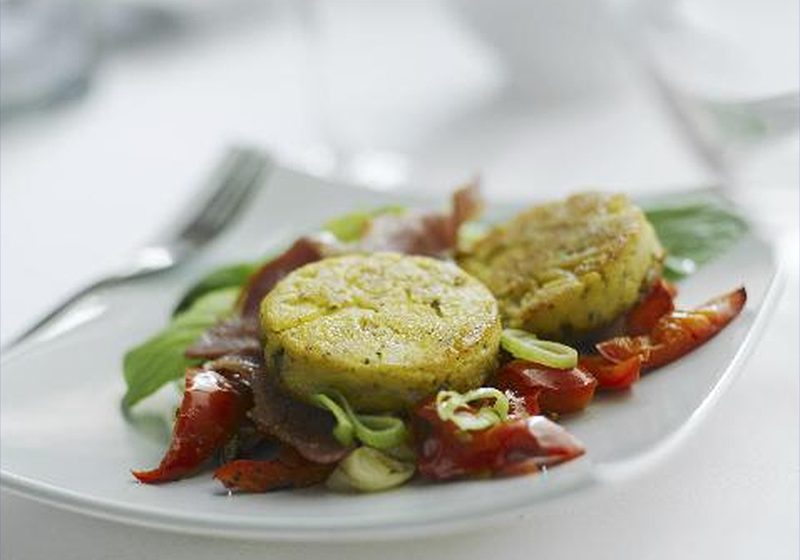 Ingredients
Serves Two
Griddle Cakes
1 Medium red onion, finely diced
2 Cloves garlic, crushed
2 tbsp Extra virgin olive oil
110g/ 4oz Polenta
600ml/ 1pt Vegetable stock
2 tsp Capers
75g/ 3oz Montgomery Cheddar, coarsely grated
Ground black pepper
Stir Fry
1 tbsp Extra virgin olive oil
1 Leek, shredded into fine rounds
½ Red pepper, cut into chunks
Splash Balsamic vinegar
2 Rashers Smoked back bacon
How to make it
A light and elegant lunch. The griddle cakes are served on a bed of finely shredded leek and red pepper and accompanied by lightly smoked lean grilled bacon strips.
The griddle cakes can be prepared in advance and chilled until ready to cook.
Prepare the griddle cakes. Heat the oil in a large frying pan and lightly sauté the onion and garlic for 5 minutes to soften.
Pour in the polenta and vegetable stock. Stir over a gentle heat until the mixture cooks to a thick paste.
Remove from the heat and stir in the grated Cheddar and capers. Spoon the mixture into a 20cm square baking tin lined with foil. Smooth the surface with the back of a spoon and chill until firm.
To serve. Shallow fry the griddle cakes in a little extra olive oil over a gentle heat until crisp and golden on both sides. Lightly grill the bacon and stir fry the prepared vegetables. Season with the balsamic just prior to serving.
Place leek and pepper mix on individual serving plates and top with the griddle cakes and bacon.
Accompany with lightly cooked Swiss chard or spinach.
(Courtesy of the British Cheese Board)