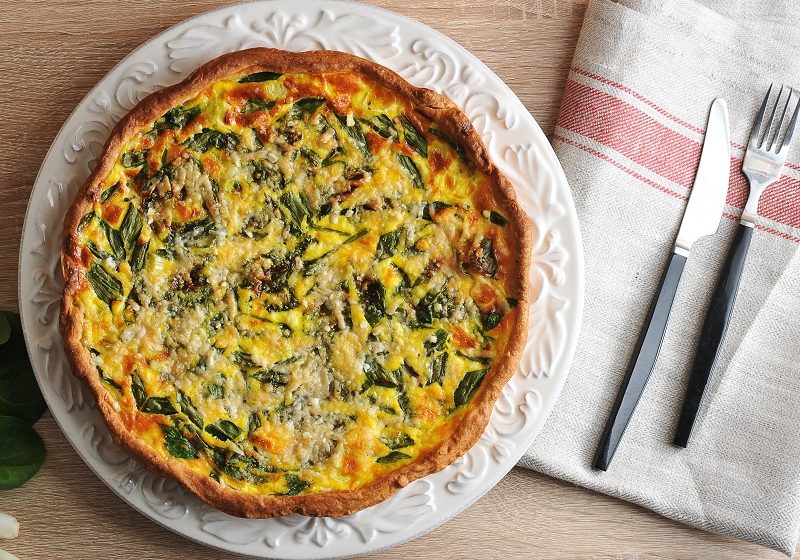 Ingredients
Pastry
125g plain flour
Pinch of salt
25g cold butter, diced
25g lard
2 tablespoons milk
Or 250g block of readymade shortcrust pastry
Filling
125ml milk
175ml double cream
2 medium eggs
1 tablespoon fresh tarragon, chopped
100g cheddar cheese – we recommend Pong's Extraordinary… Cheddar
180g cooked spinach, lightly chopped
60g cooked broad beans or soya beans
How to make it
This Coronation Quiche has been selected as the official dish to celebrate the coronation of King Charles III on May 6. Royal head chef Mark Flanagan created the Coronation Quiche to be served at coronation lunch events across the UK. With a main ingredient being cheddar, we would recommend using Pong's Extraordinary… Cheddar for a full flavoured bite. Here's the recipe.
To make the pastry:
Sieve the flour and salt into a bowl
Add the lard and butter, and rub the mixture together using your fingertips until you get a breadcrumb-like texture.
Add the milk a little at a time and bring the ingredients together into a dough.
Cover and allow to rest in the fridge for 30-45 minutes.
Lightly flour the work surface and roll out the pastry to a circle a little larger than the top of the tin and approximately 5mm thick.
Line the tin with the pastry.
Cover and rest for a further 30 minutes in the fridge.
Preheat the oven to 190˚C Fan / Gas Mark 5 / 370˚F.
Line the pastry case with greaseproof paper, add baking beans and bake blind for 15 minutes.
Remove the greaseproof paper and baking beans.
Reduce the oven temperature to 160˚C.
To make the filling:
Beat together the milk, cream, eggs and herbs.
Season with salt and pepper.
Scatter half of the cheddar in the blind-baked base
Top with the chopped spinach, beans and herbs, then pour over the liquid mixture.
If required, gently give the mixture a delicate stir to ensure the filling is evenly dispersed.
Sprinkle over the remaining cheese.
Place into the oven and bake for 20-25 minutes until set and lightly golden.
It's recommended to serve your Coronation Quiche hot or cold, with a green salad and boiled potatoes.
Other dishes recommended for your Coronation lunch include Ken Hom's Coronation Roast Rack of Lamb with Asian-style Marinade, Nadiya Hussain's Coronation Aubergine, and Adam Handling's Strawberry and Ginger Trifle. Why not also add a Pong Party Bread and don't forget your cheeseboard! We're offering 10% off all British Cheese until 9th June 2023 when you add code ROYAL23 at checkout.