Vintage Cheddar, Ham and Pea Risotto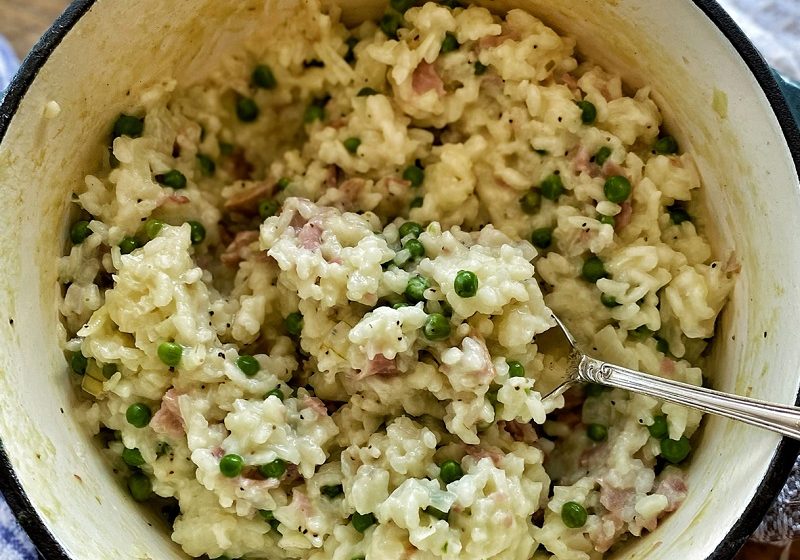 Ingredients
200g ham (such as The Jolly Hog Black Treacle Ham)
300g risotto rice
1 garlic clove
1x chicken stock cube
2 tbsp olive oil
100g frozen peas
100g vintage cheddar such as Isle of Mull Cheddar
1 onion
1 tbsp Tracklements Strong English Mustard
2 tbsp mascarpone
50g approx parmesan
How to make it
This creamy vintage cheddar, ham and pea risotto enjoys flavours from three cheeses: tangy and sharp from the cheddar, nutty and salty from the parmesan and sweet, creamy flavours from the mascarpone. Ideal for a mid-week dinner with a rocket salad or some steamed greens.
Finely dice your onion and garlic
Add a stock cube to boiling water and leave to dissolve
In a large casserole dish or heavy bottomed sauce pan, heat the olive oil
Add the onion into the pan & cook for 5 minutes until it begins to soften and go translucent
Add the garlic, and then pour in the risotto rice
Allow 30 seconds for the rice to fry in the olive oil, and the garlic to become fragrant, before you add in your stock
Pour the stock in, bringing your saucepan to a boil at the same time
Cover the risotto and cook for 15 minutes, making sure it's on a medium heat
The more you stir the risotto, the better. If you're busy, try to stir at least every couple of minutes to stop it from sticking to the bottom
Whilst your risotto is cooking, tear the ham into thick pieces
Add your ham into the sauce pan, along with the peas, mascarpone, vintage cheddar and parmesan
Fold in all the ingredients so your risotto can soak up the flavours
Cook for another couple of minutes until your rice is fully cooked and the cheese has melted
Season with salt and pepper, more parmesan then enjoy
Recipe courtesy of Tracklements and The Jolly Hog
Other Tracklements Recipes
This goats' cheese tart with Sticky Fig Relish is full of flavour, simple to make and will take your picnic fare from ordinary to extraordinary!
Bittersweet black treacle cured ham paired with creamy and crumbly Somerset Organic Cheddar makes this Mac n Cheese recipe a cut above the rest. Smooth Dijon Mustard adds tangy and spicy flavour to every bite.