The Perfect Date Night: Fondue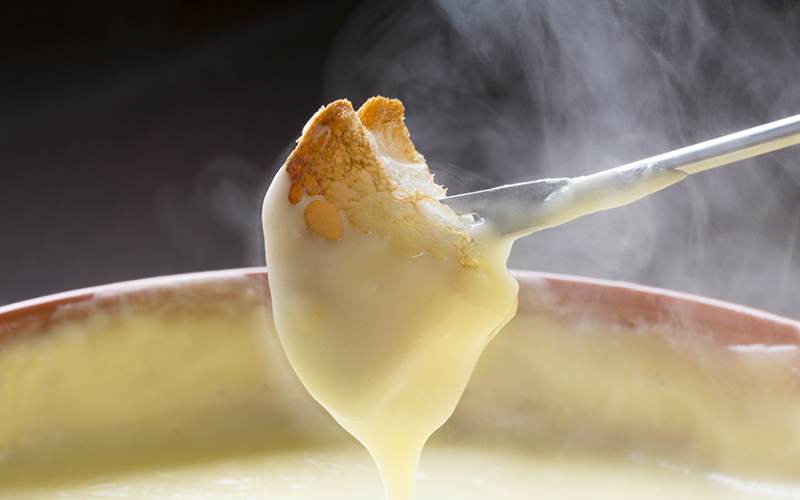 Fondue 'became' the national dish of Switzerland after some passionate promotion from the Swiss Cheese Union in the 1930s. The earliest recipes for basic cheese fondues however, can be found in the 1870s. Fondues become seriously popular in the UK and America in the 1960s and since then have continued to be a worldwide favourite.
There are very few other dining experiences that are quite as interactive and, in Swiss culture especially, fondue is viewed as not just a meal but a social occasion. The marketing consortiums that have generated enormous worldwide revenues in Swiss cheese have conceived such slogans as "La fondue crée la bonne humeur" ('fondue creates a good mood') and "Fondue isch guet und git e gueti Luune" ('fondue is good and creates a good mood'!). From all the fondue parties we've had here at Pong, we can only agree.
Amazingly after the Second World War, when rationing ended, the Swiss Cheese Union, continuing its marketing campaign, sent fondue sets to military regiments and event organizers across Switzerland. A gesture which has now led to fondue being a symbol of Swiss unity.
The word 'Fondue' derives from the French verb, fondre, meaning 'to melt'. It was originally conceived as a way of utilising parts of the huge Gruyere and Emmental cheeses that, after the cutting process, might otherwise be wasted. You can see our recipe for cheese fondue parties by visiting our Recipe Book. We would also recommend buying a traditional fresh fondue pack, which uses only the finest Swiss Le Gruyere and Raclette, with a dash of white wine and Kirsch brandy. This is a much easier way to prepare the fondue. Simply empty contents into a saucepan, heat on the hob while stirring continuously until the cheese becomes creamy. Then serve immediately in your fondue set with your own choice of dippers.
Here are some handy fon-dos and fon-don'ts:
Fon-do!
* Variety is the spice of life! Be creative and serve fondue with a range of dippables. Crusty bread and sliced vegetables are especially good with fondue. Just be sure whatever you decide to dip is prepared ahead in bite-size pieces.
* Mix it up! Fondue is the perfect appetiser, main course for parties and dessert. If you want to mix sweet and savoury it's your prerogative
* Swiss Kiss! It is tradition when eating fondue to kiss the person to your right if you drop the bread in the cheese (it's okay to do it on purpose…)
Fon-don't!
* Don't forget to stir! As the night keeps moving be sure to keep your fondue moving. Stir it up so your cheese remains deliciously smooth
* Avoid double dipping! Every fork or skewer full should contain a new unbitten morsel (if a piece falls in the fondue, see fon-do tip no. 3 above!)
* Definitely don't hide surprise gifts! While fondue offers a lot of interactive eating enjoyment, it is not a good place to stash an engagement ring.
See our full range of fondue party sets and fresh fondue packs here