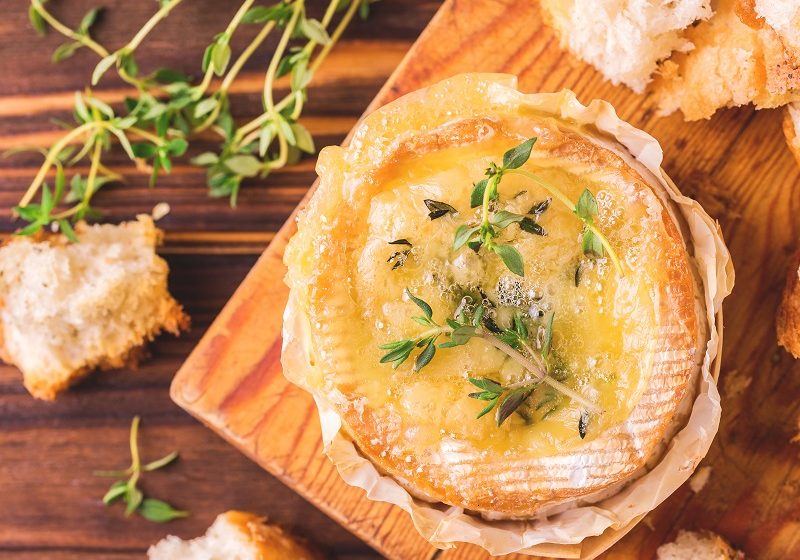 Ingredients
Chunks of bread
Sprig of thyme
How to make it
Tunworth has a long-lasting nutty and sweet milky flavour with the savouriness you'd expect from a Camembert-style. It shouldn't be saved just for wintery nights by the fire, it can be fabulous on the barbecue too. Here's the simple recipe:
Ensure the coals of the barbecue are nice and hot and ashy
Remove any interior packaging
Return the Tunworth to the wooden case
Wrap the whole cheese in foil
Now bury the cheese in the hot ashes for 15 minutes
When it's time to remove it, remove the foil and open the box to reveal the hot melted cheese
Finish with a sprinkling of thyme
Serve with chunks of bread as part of the barbecue spread
Tunworth
While Tunworth's style, texture and production is similar to a Camembert, the taste is unique: cleaner and smoother than its French inspiration. Tunworth is a previous Supreme Champion and Gold Award winner at the British Cheese Awards, and rightly so.
Oven baked cheese
There are plenty of cheeses that are perfection simply baked in the oven. The trick is finding the right dish to bake it in, adding the right extra flavours for each unique cheese, and of course creating the ideal dipping accompaniments. Here's a recipe for oven baked cheeses.
Vacherin Mont d'Or is also perfection when baked. Here's a recipe.