Black Bomber Cheese Jackets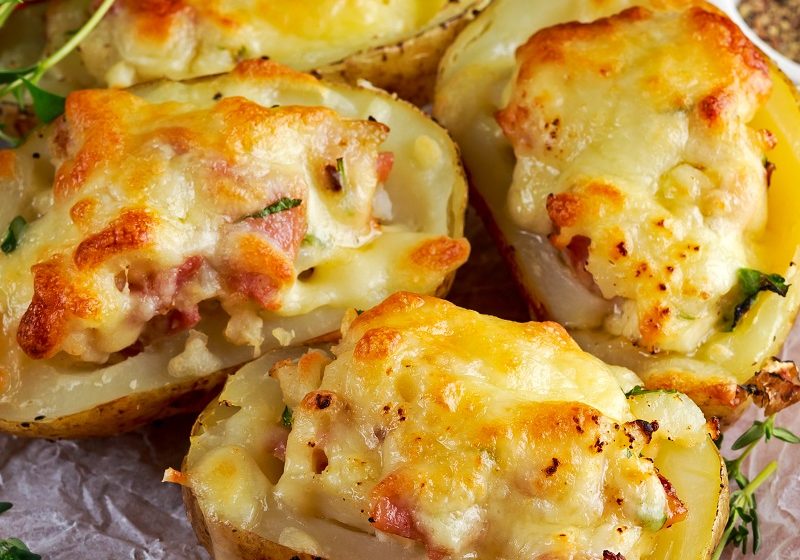 Ingredients
Serves 12
6 large jacket potatoes
100g (approx 4 slices) bacon
salt and pepper
crème fraîche
60g butter
200g Black Bomber
Chopped parsley
How to make it
Liven up your jacket potatoes by stuffing them full of bacon and Black Bomber cheese. Salty bacon matched with the sharp maturity of the Black Bomber make these delicious and filling.
230°C/200°C fan/Gas 8
Prick your potatoes and rub some salt into the skins
put the potatoes in the oven, baking for about an hour or until tender in the middle
Chop the bacon into small strips and fry until the fat renders and the bacon becomes crispy
Drain on paper towels
Remove the potatoes from the oven and reduce temperature to 190°C/170°C fan/Gas 5
When the potatoes have cooled, halve each lengthways
Scoop out some of the flesh, leave a 1 cm thick layer of potato
In a bowl combine the crème fraîche and butter until smooth
add the bacon, most of the cheese and salt and pepper
spoon the mixture into the potato skins
sprinkle the remaining cheese over the top of each potato
bake the jacket potatoes for another 15-20 minutes until the cheese has turned golden brown
Other recipes:
This Cocotte Julienne a traditional Russian dish which is very rich and creamy. Traditionally, this dish is served as an appetiser so you can make smaller portions in ramekins and serve it as a starter. If you love mushrooms and strong cheddar, this dish is perfect for you.