Cocotte Julienne with Black Bomber Cheddar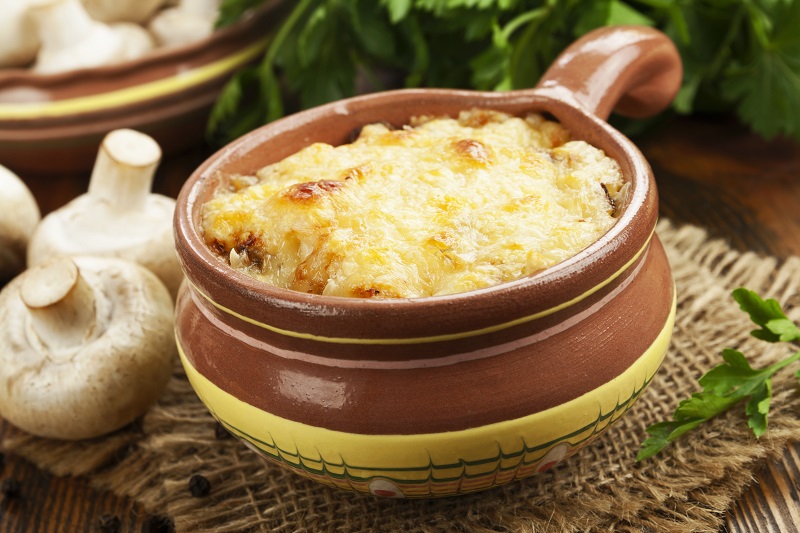 Ingredients
500g chopped mushrooms
500g chicken meat – breast or thigh is fine
4 finely chopped shallots
45g butter
500ml milk
60g plain flour
200g Black Bomber Cheddar
1tsp nutmeg
Salt and pepper
How to make it
This Cocotte Julienne is a traditional Russian dish which is very rich and creamy. Traditionally, this dish is served as an appetiser so you can make smaller portions in ramekins and serve it as a starter. If you love mushrooms and strong cheddar, this dish is perfect for you.
Melt the butter in a deep pan and add the finely chop shallots
Add the finely sliced chicken
Cut the mushrooms in pieces and add to the pan. Cook until the juices have cooked away completely. Season to taste
Make a béchamel sauce – start with 50g of butter and spoon in the flour, mixing well. Once you have the roux start adding milk, whisking as you do to make it smooth
Add the nutmeg
Set your grill to medium
Add the béchamel to the mushrooms and onions and mix
Place in the baking dish (or ramekins, if preferred)
Sprinkle over the Black Bomber Cheddar
Place the baking dish under the grill for 10-15 minutes
If serving Cocotte Julienne for a main course, it works well with steamed kale and sough dough bread
Other recipes:
This is the ideal date night dinner – well cooked fillet steak with a gorgeous cheesy surprise in the centre. The bacon keeps the steaks nice and juicy.
Rôti de veau Orloff is a classic French dish that works great as an alternative roast option. Filled with deliciously tangy Le Gruyere and salty bacon and served on a platter of vegetables, this looks and tastes the part.