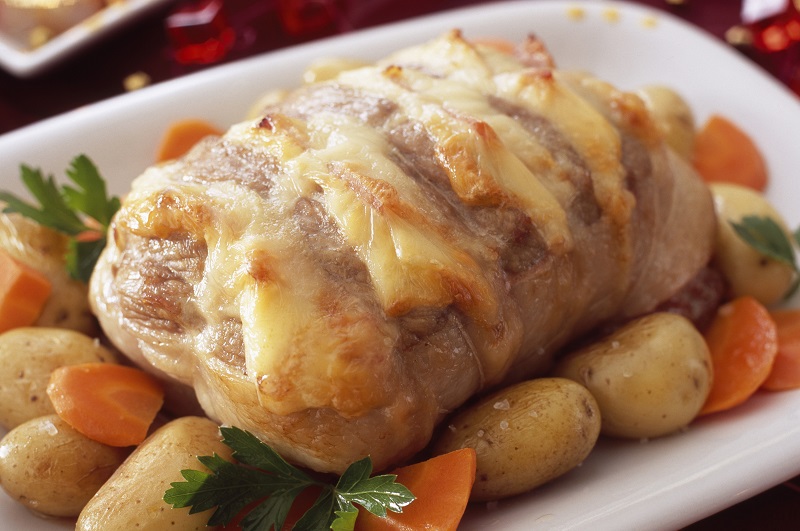 Ingredients
Serves approx 6-8
1.5 kg tied boneless loin of veal roast
16 slices of Le Gruyere Switzerland AOP
8 slices of ham
8 slices of smoked bacon
40g of butter
4 tablespoons of olive oil
4 carrots
2 onions
4 cloves of garlic
50cl of dry white wine
300g mushrooms
1 egg yolk
20cl of cream
1kg new potatoes
How to make it
Rôti de veau Orloff is a classic French dish that works great as an alternative roast option. Filled with deliciously tangy Le Gruyere and salty bacon and served on a platter of vegetables, this looks and tastes the part.
Pre-heat oven to 325°F/190°C/Gas Mark 5

Ensure the veal is dry
Season with salt and pepper
Melt oil and butter in a pan until it foams, then brown the veal on all sides using tongs, for around 10 minutes
Keep aside the remaining butter
When cool enough to touch, remove string
Make slices crosswise across the roast leaving about 5cm of base
Within each slice, place a slice of Le Gruyere Switzerland AOP 

cheese, a slice of ham and smoked bacon

Cover the meat with any remaining bacon lardons

In a casserole dish, add the melted butter, add carrots and onions and brown for 5 minutes until soft

Add the meat on top of the veg

Add the garlic and white wine, then place casserole lid on top and simmer for approx 1 hour over low heat
Occasionally stir and drizzle juices over meat
Sauce:
Melt butter, chop and fry the mushrooms on low heat
Once the mushrooms are lightly brown and any liquid has evaporated, stir in the

crème fraîche, 2 tablespoons of cooking juices, and egg yolk

Season to taste
Potatoes
Bring a pot of salted water to boil
Add the new potatoes, ensuring all are approx same size
Boil for approx 20 minutes or until potatoes are cooked
Serve the veal on a bed of the cooked vegetables and potatoes, with the sauce drizzled over the top.