Caramelised Onion, Rosemary and Cashel Blue Cheese Pizza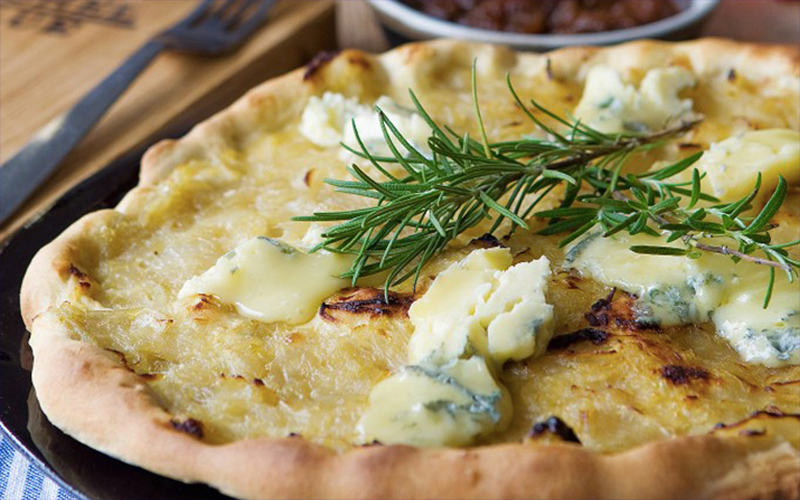 Ingredients
Serves 2
1 portion basic pizza dough
20g (¾ oz) butter
2 medium onions, peeled, quartered and sliced thinly
50ml (2 fl.oz) olive oil
150g (5oz) Cashel Blue
2 tsp finely chopped fresh Rosemary or thyme Salt and freshly ground black pepper
How to make it
Sweet caramelised onions and hints of savoury rosemary complement the saltiness of this blue cheese pizza, making it a delectable homemade dinner.
Place a saucepan over a medium heat and add in the butter. When the butter has melted, add in the onions, cover and leave to sweat for about 10 minutes. Then remove the lid, turn up the heat and stir the onions until they become lovely and brown. Tip the onions into a bowl and leave to cool.
Roll dough to about 5mm (¼ in) thick. Then brush the pizza base with some olive oil, spread the onions out all over the base, crumble the Cashel Blue cheese on top, and sprinkle over the finely chopped thyme. Season with salt and pepper, then place in the oven for 20 minutes.
This recipe is originally by Darina Allen on the Cashel Blue website.
Try these other pizza recipes…
Nothing beats a home-made pizza, the base is crispy with a nice thick crust, and the three cheeses give you mouth-watering flavour with every bite. It's sure to get your loved one's heart racing this Valentine's day.
This take on pizza is from the Japanese city of Sapporo. Although far from the natural home of pizza, the combination of sweet onion and salty blue cheese work brilliantly here.