Meet The Makers… Mull of Kintyre Scottish Cheddar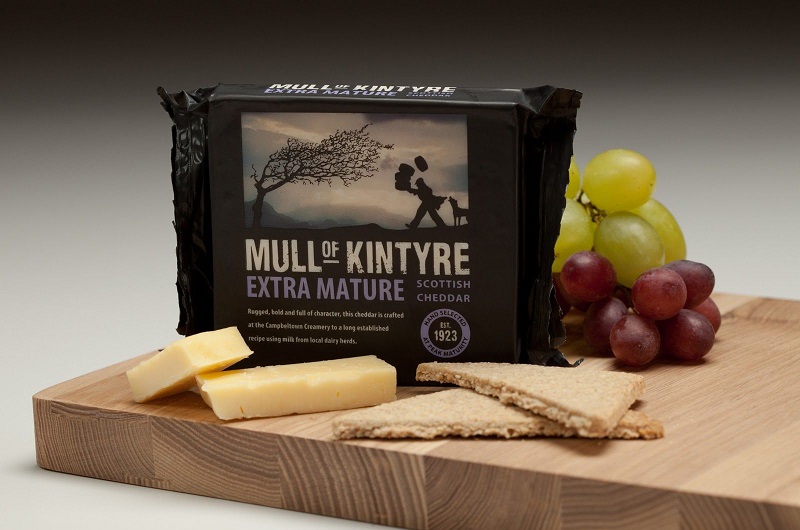 In the historic Campbeltown Creamery on Scotland's craggy west coast, the Mull of Kintyre creamery insist on using time-honoured methods to craft their Cheddar.
The creamery has been producing cheese since 1923. Some say this unique cheese has a hint of the whisky that remains in the building from its days as a distillery.
Cheesemaking
The cheese is made from milk from local dairy farms, whose cows graze the lush coastal pastures filled with flora and fauna. The windswept landscape and warm waters of the Gulf Stream are the added ingredients that help create the rich texture and flavour, which makes Mull of Kintyre so unique.
Cheddar Flavour
The cheesemakers work to a long-established recipe using the finest milk from the Kintyre Peninsula. When it reaches the highest standards the master cheese graders then hand select the best. They work to ensure it has a firm body with deep, rounded flavour.
The result is an experience that truly tantalises the taste buds. Rugged, bold and full of character with nutty, sweet hints. It is a distinctive experience that slowly stimulates the different taste sensations. The perfect accompaniment to a cheeseboard or as a key ingredient in a recipe, such as Beer Chutney.
Awards
It's not just us who thinks this cheese in wonderful, Mull of Kintyre has been busy winning many awards. Their awards include Best Vintage Cheddar at the International Cheese Awards 2012 and Gold at the British Cheese Awards 2010.
Where to find Mull of Kintyre cheddar
We think Mull of Kintyre cheddar is so fabulous it will feature in an upcoming Pong Cheese Club Subscription box. Alternatively visit here buy Mull of Kintyre Scottish Cheddar in 200g truckle form.
The Pong Cheese Club is the ultimate indulgence for cheese fans – regular deliveries of amazing cheeses, direct to your door. Each box is specially selected to give you a variety of seasonal flavour combinations so you can experience the best of our cheeses from the UK and worldwide. Sign up today and get 50% off* your first box with code CLUB50.