A Focus on… Isle of Arran Cheddar
20 December 2021 — Cheesemakers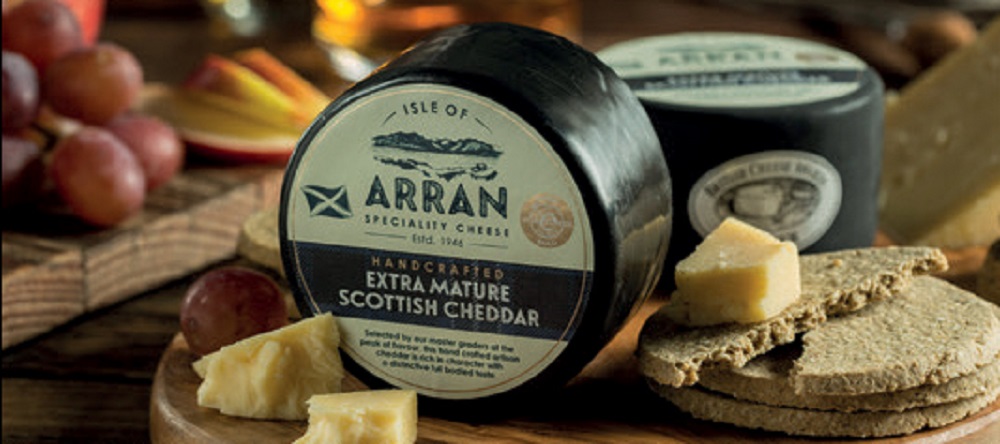 Often referred to as 'Scotland in miniature' the picturesque island of Arran is home to the award-winning Torrylinn Creamery. Here, Isle of Arran cheddar is lovingly hand-crafted by a small team of artisan cheese-makers using traditional methods passed down from generation to generation.
Steeped in history and provenance, the Torrylinn Creamery was opened by King George VI in 1946, giving their cheddar the Royal seal of approval. Isle of Arran Cheddar is made by hand by five dedicated staff in open vats, using a time-honoured recipe, which gives each batch the own distinct flavour and personality.
To make the best cheese, the best milk is needed. Torrylinn Creamery dairy cows graze the windswept Arran landscape, which helps produce rich, creamy milk to make their award-winning cheddar. The milk comes from just two farms on the island, and the passion of their farmers, combined with the Scottish west coast grazing, provide the perfect conditions for producing their award-winning cheddar.
Their hand-crafted Isle of Arran Extra Mature cheddar is rich in character with a distinctive, full-bodied taste and creamy texture, beautiful when enjoyed with a nice glass of wine. Its savoury taste has a hint of sweetness complemented by nutty notes, enhancing the complexity and making it very moreish indeed. Only 200 tonnes of this artisan cheddar are made each year, making it the ultimate choice for cheese connoisseurs and the highlight of any cheeseboard.
Their cheddar is available as both mature and extra mature, and available with black pepper, lime and chilli and caramelised onion in truckles. The cheese is also ideal as a key ingredient to recipes.
Look out for Torrylinn Creamery cheese in upcoming Pong Cheese Club Subscription boxes.