Cheese and Beer Pairing with Beer52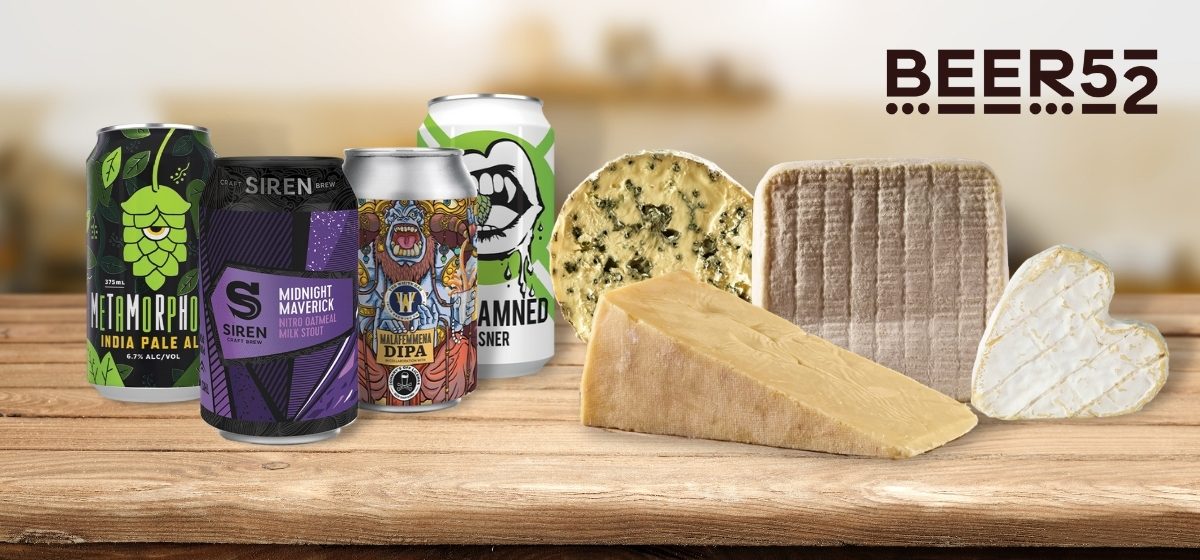 Summer is the perfect time for cheese and beer pairing. Chilled beers offer refreshment for long hot balmy days, and alongside a cheeseboard, it's a wonderful way to spend a summer afternoon.  Here, we've paired four of Beer52's top rated beers with what we consider to be the ideal cheese. Get those tastebuds tingling!
The Damned Pilsner & Perl Las Blue Mini
This Plisner is a real all-rounder, with a distinct modern hoppy twist and big citrus finish. It's crisp and refreshing, and pours with a spectacular head. We've paired it with Perl Las Blue Mini which has a strong lingering flavour, but also the salty, creamy tones you'd expect from a blue. Each bite will make you want to take a sip. Each sip will make you want to take a bite!
Metamorphosis IPA and Westcombe Cheddar
Because this IPA has a hefty malt profile we tried it with a mature cheddar -Westcombe Cheddar to be precise. Westcombe Cheddar is bursting with flavours and has that earthy, rural influence that can handle a malty profile. The refreshing hop bitterness of the Metamorphosis is complemented nicely by the creaminess of the cheddar.
Malafemmena DIPA and Neufchatel AOC
Hailed as 'the ultimate summer beer' Malafemmena DIPA is packed with citrus and and intensely hoppy tropical flavour. It has a big, punchy aroma of citrus and tropical fruits, with a hint of pine. Fruity beers often work well with soft cheeses, and Neufchatel AOC fits the bill with its delightfully soft texture adding a little bite, followed by creamy luxuriousness. It's light too which is enhanced by the citrusy tones.
Midnight Maverick and Robiola Alta Langa
This creamy nitro milk stout is smooth and satisfying. with biscuity oats and roasty malts. It's sweet, but also has notes of mocha, vanilla and praline. This milky stout with complex flavours met its match with Robiola Alta Langa which is indescribably rich and made from both cow and sheep milk. Robiola offers complex, deep flavours too, wrapped in a sexy, luxurious texture Together it's a super creamy, luxurious experience.
If you enjoyed this cheese and beer pairing and want to receive a free case of 8 craft beers*, sign up here to Beer52's latest offer. Beer52 is the world's biggest beer club with over 175,000 members that enjoy a new case every month. Just cover £5.95 postage and you'll get 8 beers, 'Ferment' magazine and some tasty snacks.
*Offer valid for new UK customers only. One per household. After your free case, you'll be subscribed as a member of Beer52 (£24/m for 8 beers, magazine, two snacks), pause or cancel anytime. 18+ only. See Beer52's website for full T&Cs. Beer selection may vary. Promotion runs for 30 days. Please Drink Responsibly.