Famous 'Descendants' of the Caerphilly Family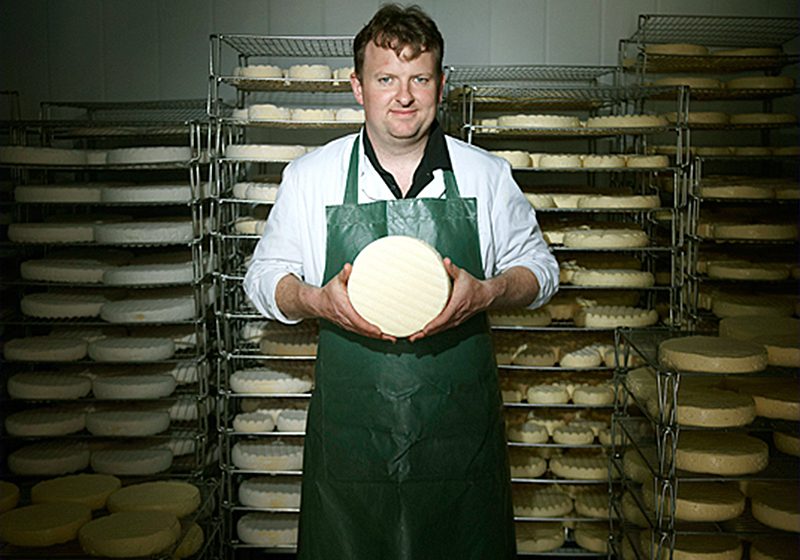 Caws Cenarth in West Wales is a fantastic example of a modern British cheese producer in a booming industry. A family business, it was started by Gwynfor and Thelma Adams in 1987 in response to Milk Quotas, on their farm, Glyn eithinog, in the lovely and lush valley of the river Cych. The Adams family drew on a six generation tradition of cheesemaking and Caws Cenarth quickly established a reputation for its creamy, fresh-flavoured 'Caerffili'.
These days, as well as the traditional Caerphilly, Caws Cenarth has become one of the only established cheese producers within the UK tp produce a 'blue' (Perl Las), a 'washed-rind' (Golden Cenarth) and a soft cheese (Perl Wen). However, all of these cheeses have a connection: each of them was created from the original Caerphilly recipe.
Carwyn, Gwynfor and Thelma's son, began experimenting with the Caerphilly recipe and the first cheese he produced from it was Perl Wen. Brie-like in appearance, Perl Wen is a fresh tasting creamy cheese with a soft white rind.
The next discovery was a semi-soft washed-rind cheese, Golden Cenarth. Whilst maturing a batch of Caephilly, he noticed a distinctive orange-red culture growing on some of the moist cheeses. He decided to let them mature a little longer to see what would happen, the cheese softened, developed a soft rind and then a seductive pong. On investigation Carwyn found that this Brevibacterium culture was specific to the Caws Cenarth cheese store. Interestingly, Brevibacterium linens is found on human skin, and is the main cause of foot odor (not such as a seductive pong after all!) To preserve this culture, Carwyn then washed the remnants of the cheeses in brine.
Last but not least, Perl Las, the stunning blue cheese. Perl Las was created more by coincidence, after Carwyn noticed, one morning, that a piece of his Caerphilly had developed a naturally blue streak. With his wife Susanna, they recreated the taste they had produced. With the rich creaminess of the caerphilly, followed by the short saltiness and blue tones, they had created a blue cheese that was and still is different from most British blues.
All of the cheeses from Caws Cenarth are handmade, the curds are hand cut, then hand moulded, hand salted and washed, hand turned, hand packed and labelled by the Adams family. We have them to thank for ensuring the survival of these well loved regional cheeses and for creating some new ones!

Visit the Welsh Cheese section in our shop to purchase cheeses from Caws Cenarth.