WIN a Heart-Shaped Box in time for Valentine's Day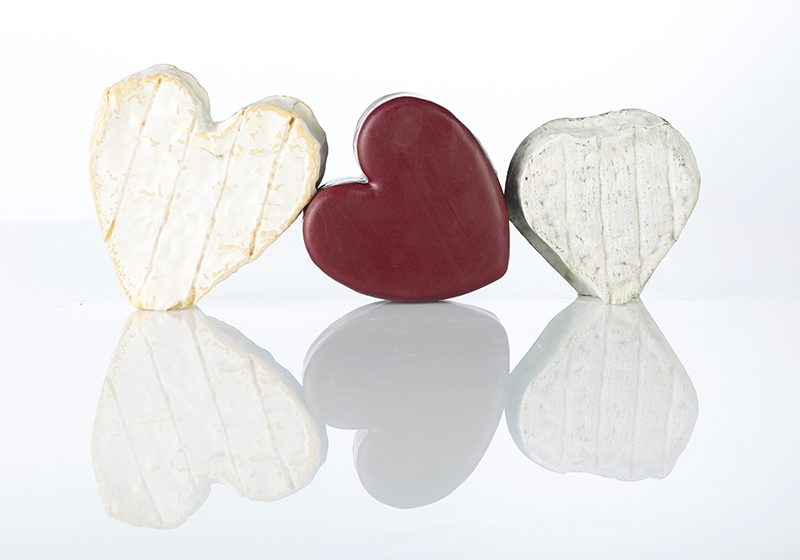 WIN a Valentine Cheese Box worth nearly £40 by crafting your cheesiest love poem!
*****
PONG'S CHEESIEST VALENTINE'S COMPETITION is now closed!
And we have a winner: Mel Hussey from Swindon wins the Heart-Shaped Box with this superb ode:
"They said that I was crackers to fall for you
They said that you would leave me feeling Blacksticks Blue
They said you'd wreck my Livarot if I met you for wine
But when I felt your first embrace I knew you would be mine
Could a cheese by any other name smell so sweet?
My dear Epoisses, a Romeo, you've knocked me off my feet!
It's not like I am innocent, I've been around the board
And some have left me quite unmoved and some I have adored
But when I saw you oozing with that great 'come hither' charm
I took no notice of my friends who warned me with alarm
You grabbed me by the throat and I was toppled to the floor
But sweet Epoisses, my Romeo, I'm yours for ever more!
Congratulations to Mel and a huge thanks for everyone else's brilliant contributions. Happy Valentine's Day!
*****

Following on from last year's huge success we're inviting you to flex your romantic muscles and join in Pong's Cheesiest Valentine Competition! We're giving away a Heart-Shaped Box with Pong's Perfect Biscuits for Cheese to the best short poem or one-liner, dedicated to a loved one, with a cheesy twist. Indeed the 'loved one' can even be a cheese! For example the wistful 'when we're miles apart, I Camembert it' or the heavily-committed 'I will love you as Langres as I
live!'. Last year's winner was Susan from Bristol with the superb:
"Blue Monday's gone since I fondue,
I'm so Boursin with love for you,
You're the Edam to my Eve, it's true.
You Caerphilly won my White Heart,
No Munster could tear us apart,
I fell just like the French at Waterloo."
You can enter on Twitter by quoting #cheeselove or post on our Facebook page. You can even enter by adding #cheeselove to your gift message on any Valentine order you place on the Pong site.
The competition will run until Monday 10th February at which point we'll choose the best poem/ one-liner and will contact the winner to arrange for the Heart-Shaped Box to be sent in time for Valentine's Day (Friday 14th February).
Terms and Conditions:
1.
The prize is a Heart-Shaped Box by Pong with Pong's Perfect Biscuits for Cheese all worth £37.85 including delivery to mainland UK. 2. There is no cash alternative. 3. The Valentines competition is open to all UK residents aged 18 and over, excluding employees of Pong Cheese Ltd. 4. Only one entry per household will be permitted. 5. This is an online competition only – postal entries will not be accepted. 6. No purchase necessary. 7. The Valentines competition closes on Monday 10th February 2014. 8. The judges will choose a winner on or after 11th February 2014. 9. The decision of the judges is final and no correspondence will be entered into. 10. Entry into the Valentines competition implies acceptance of these rules. 11. The winner will be notified by email or social media. The winner then has 7 days to claim their prize by return email. If after that time the prize has not been claimed another winner will be selected. 12. In the unlikely event of the prize being unavailable we reserve the right to substitute the prize with one of equal or greater value.