Asparagus with shallots, white wine and Selles-Sur-Cher sauce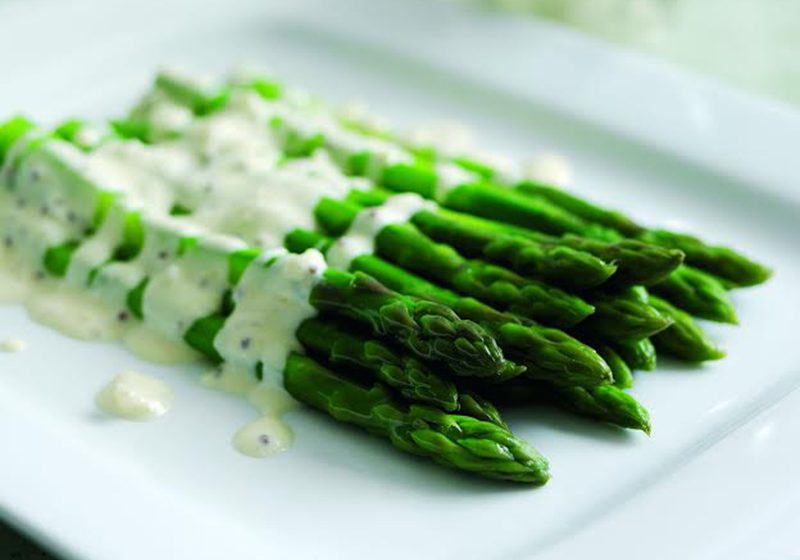 Ingredients
Preparation time: 10 minutes
Cooking time: 15 minutes
Serves 4
150g Selles-Sur-Cher, rind removed
2 bunches asparagus, try to buy in season
2 shallots
25g butter
125mls white wine, oaky is better like a Chardonnay
250mls double cream
1 lemon
1 tbsp whole grain mustard
2 tsp olive oil
Salt and pepper to taste
How to make it
Asparagus season runs from April until June in the UK but this Selles-Sur-Cher sauce dish is a simple and perfect starter for whenever you can get hold of it.
First, finely chop the shallots. Place into a small saucepan on a low heat with the 25g of butter and sweat until soft and translucent. Add the white wine and allow to simmer and reduce by one third.
Once reduced, add in the double cream and reduce again by half with the lemon juice. At this stage, season with black pepper, add in the mustard and crumble in the goat's cheese.
Mix well until all the cheese has melted. You may need to use a whisk to do this. Set the sauce to one side while you cook the asparagus. Place a large pan of water on the stove and bring to the boil.
Gently peel the asparagus and when the water is boiling, drop them in for 3 minutes. Drain and coat in a little olive oil, salt and pepper. Assemble the asparagus on your serving plates.
Warm through the Selles-Sur-Cher sauce and drizzle over the top. Serve extra sauce on the side.
Recipe courtesy of www.frenchgoatscheese.com